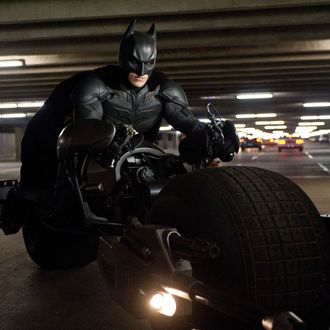 CHRISTIAN BALE as Batman in Warner Bros. Pictures' and Legendary Pictures' action thriller "THE DARK KNIGHT RISES," a Warner Bros. Pictures release.
Photo: Ron Phillips/Warner Bros. Entertainment
Despite promises from Warner Bros. and others studios not to release box office numbers until Monday out of respect for shooting victims in Colorado, officials could not resist passing Dark Knight Rises figures along to the New York Times. The paper is reporting an opening weekend haul of just over $160 million for the movie — the third biggest ever.