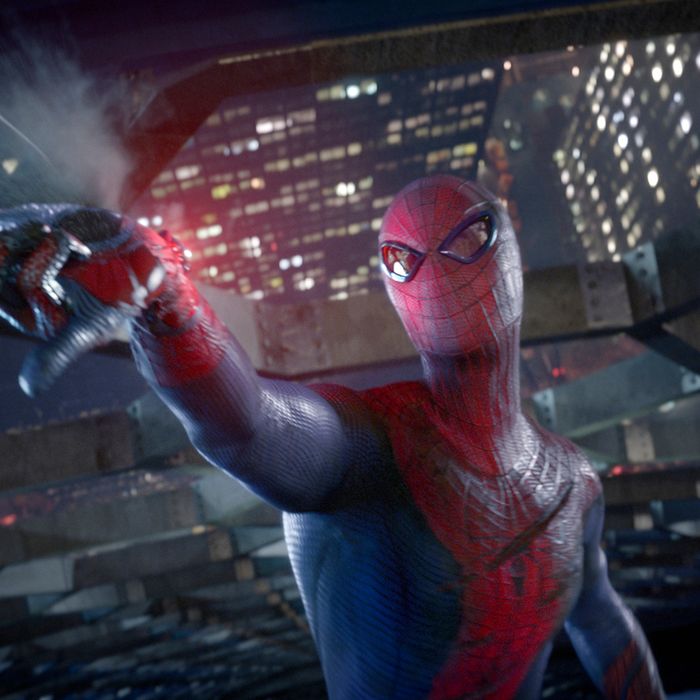 This Weekend's Winner: Inasmuch as any film that had already grossed $75 million by last Thursday can be said to be "opening," The Amazing Spider-Man opened to No. 1 at $65 million this weekend (and $140 million over a six-day period), thereby provoking a huge sigh of relief at Sony Pictures, which had been worried about rebooting so soon after 2007's Spider-Man 3.
Honorable Mention: Oliver Stone's Savages opened at No. 4 behind Ted, (No. 2 with $32.6 million) and Brave (No. 3 with $20 million). Despite the fact that Oliver Stone's adaptation was moved into an insanely competitive weekend — one that needlessly pitted the Don Winslow best seller against Universal's other hard R-picture in release, Ted — Savages still managed to clock $16.2 million.
This Weekend's Losers: Paramount Pictures' concert film Katy Perry: Part of Me imploded on the launch pad, grossing half of what was expected and taking in barely $10 million. Also: Notwithstanding the New York Times' semi-obvious proclamation that gay men "have been flocking to Magic Mike in numbers not seen since the release of Brokeback Mountain," they and other viewers failed to show up this weekend, and Mike plunged 60 percent, taking in just $15 million. (The film, however, has grossed almost $73 million on a $7 million budget. So, a big winner in the long term.)
How It All Went Down: The decision to reboot Sony's Spider-Man franchise so soon has been vindicated: Its $341 million worldwide haul to date means it has fared better than reboots of either Warner Bros.' Batman or Fox's X-Men franchises. Moreover, just six days out, it's already grossed $201 million overseas, meaning it will be an unqualified hit, even if the Sam Raimi films fared better by comparison.
More baffling was Universal's decision to move Savages — already Oliver Stone's highest-grossing R-picture ever opening — to this past weekend.
"It was a questionable move at best and a stupid move at worst," said one rival studio's distribution chief. "It will be gone completely on July 20, so they had only two weeks under the most optimistic viewpoints." (July 20, of course, is when Christopher Nolan's hotly anticipated The Dark Knight Rises arrives in theaters.)
Last summer, Universal announced that it planned to release Savages on September 28 of this year. The timing was no accident; that's very nearly when Ben Affleck's smart-set thriller The Town had opened to a robust near $24 million in 2010. The plan, we're told, was to roll out Savages on 3,300 screens.
But then came the sinking of Universal's Battleship on May 18, and Paramount, worried about a military disaster of its own, abandoned the June 29 release date for the poorly testing G.I. Joe: Retaliation, opting to try to save their movie via reshoots. With Paramount's movie out of the way, Universal moved Ted to the June 29 slot."*
But here's where Universal ran into a major problem: The opening of Ted was the highest ever for an original R-rated comedy. Theater owners, knowing they have a hit on their hands that will play all month, were unwilling to give up their Ted screens for the untested Savages. And so, instead of the 3,300 theaters that Savages was originally to have played on, only a little over 2,600 screens could be secured — many of them in smaller theaters. Universal had, in effect, cannibalized its own movie: As Don Winslow's own Twitter feed notes, in many cities like Miami and New Orleans and even L.A., showings of Savages were actually sold out.
(Here at Vulture's West Coast headquarters in Santa Monica, one local AMC Theaters–owned multiplex first moved Savages from a 200-seat theater to a 375-seat theater, and then finally to a 400-seat theater before scrambling to add midnight shows to make up for the overflow of turned-away patrons. In New York, one Vulture editor went to a 7:35 p.m. showing that also had to be moved into a bigger theater.)
"Universal is in an odd position," explains one of our spies, "The better Ted does, the worse Savages does for them. And the better Savages does, the more the 'Why not just release it in September?' question gets asked."
In the film's favor, however, is the fact that a surprising 55 percent of the Savages audience was female, a demographic that usually doesn't go to action-dramas but that powerfully employs word-of-mouth recommendations. As such, the next few days of grosses will prove intriguing to watch, because the relative success of Savages in the face of such hapless scheduling by its own studio suggests it might well actually be the rare film to increase its haul come next weekend.
*This post has been corrected: it initially said that Savages had been moved into July following the reshuffling of G.I. Joe: Retaliation. Also, Savages marks Stone's highest-grossing R-rated opening, not his highest-grossing R-rated film.