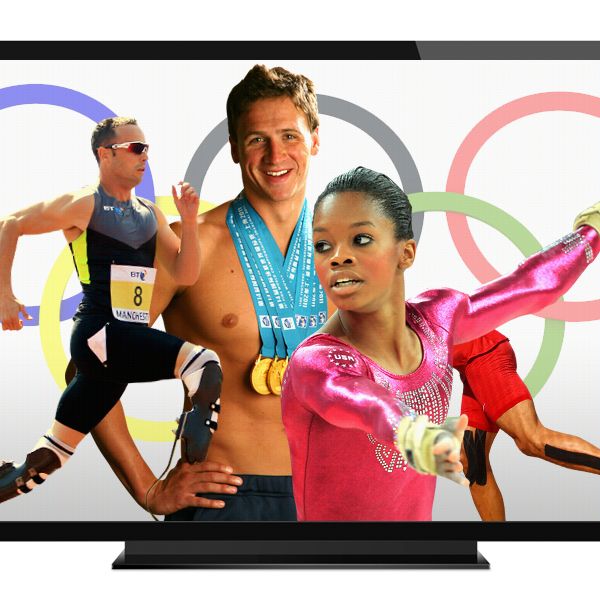 Ryan Lochte's been lobbying for a spot on Dancing With the Stars, and sure — he seems like a good choice to shimmy around and delight the grandmas of America. Plus, Olympians love DWtS: Apollo Anton Ohno, Kristi Yamaguchi, Shawn Johnson, Evan Lysacek, Hope Solo, Maurice Green, Natalie Coughlin, and Misty May-Treanor have all done the show. But why stop there, when there are so many other ways to be on TV? Lochte's just one of many, many athletes coming out of London with buzz and fame that can only mean one thing: reality television. Here, we help these budding entertainers leave the dignity of sport for the degradation of having to do "confessionals."
Oscar Pistorius Should Be The Bachelor
Especially now that Lochte says he's not interested. Pistorius is handsome and charismatic; plus, The Bachelor has only ever featured able-bodied contestants.
Gabby Douglas Should Get Her Own Show Called Gabsolutely Fabulous
Shawn Johnson went on DWtS, and Nastia Liukin cameoed on Gossip Girl. Do them one better, Flying Squirrel! And there could be a spinoff, Raising Raisman, with Aly Raisman and her parents.
The Members of the Independent Team Should Get Their Own Real World–esque show
Their entrance during the Parade of Nations was the highlight of the Opening Ceremonies. Just imagine all the fun little dance sequences they can come up with if they live together and get real.
Ryan Lochte Should Get an MTV Show Called Locthed and Loaded
Lochte's already fielding reality offers, but he should embrace his goofy borderline d-bag status and just have a show about moving to L.A. and being really famous and good-looking. The Hills with grills, if you will(s).
That Fancy Athletic Tape That Everyone Is Wearing Should Get an A&E Show Called Sticky Situations
Kinesio tape has been everywhere this year. We're imagining something like Ace of Cakes (Ace of Tapes? Eh?), except with tape crises instead of dessert freak-outs.