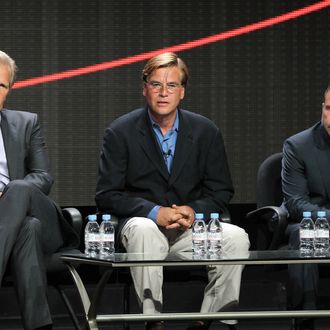 Photo: FilmMagic/Getty Images
If we've learned anything from The Newsroom, it's that hindsight is 20/20. (And that the Japanese words for four and seven totally sound the same!) So, if we had it to do over again, we would have asked Aaron Sorkin to be more specific last Wednesday when, during a session at the TV Critics Association press tour, he decided to swat down a report by The Daily alleging that he had fired "most" of his HBO drama's writing staff. Channeling his own Will McAvoy, Sorkin pounced on the story as "unsourced and untrue." But was it?
After the high drama of Sorkin's press conference, we started wondering how the original reports of staff turnover on Newsroom and Sorkin's version of events could be so diametrically opposed. Suddenly, McAvoy's words to Sloan Sabbith about the glory of truth-telling — uttered just three days earlier on HBO! — began to ring in our ears: "Ask the damn follow-up … You can't just sit there and be a facilitator for whatever bullshit the guest wants to feed your viewers." And so we started digging. Belatedly. And what we found strongly suggests that if Sorkin did not flat out lie to reporters at the TCA, he at the very least painted a picture far from representative of what actually happened. Will McAvoy would be ashamed.
Let's rewind to last week and review exactly what Sorkin said: "I want to be as clear as I can possibly be about this. The writing staff was not fired." Pretty definitive, right? But the more Sorkin kept talking, the more muddled our understanding of the changes to the show's writers' room became.
With series television, at the end of each season, you get together with the producers and with the department heads, and you talk about ways that you can get better. And so a couple of staffing changes were made that included promoting our two writers' assistants… from writer's assistant to story editors, skipping over the rung of staff writer. But even more important, other than that, the writing staff was not fired.
Caught up in the drama of Live! Aaron! Sorkin!, we (and the other journalists assembled at the Beverly Hilton) did not press for specifics. When he said "staffing changes," did that mean some people wouldn't be coming back, even if they hadn't been "fired"? When he talked about promoting two writers' assistants and then added "other than that," did he mean there were no other changes "other than that"? Most of the dispatches from the session played up the scribe's smackdown of the initial report.
But within hours of Sorkin's denials, the narrative started to shift. FishBowl LA reported that Soo Youn, the journalist behind the original Daily story about Sorkin's staff, was standing by her work (including a charge, also denied by Sorkin, that returning show scribe Corrine Kingsbury is an ex-girlfriend). Fishbowl and Youn also reminded us that, while Sorkin had singled out Youn, The Hollywood Reporter had printed its own story hours after hers broke stating explicitly that, "according to HBO," the show was "replacing about half of its writing staff." We also found a blog post written by former Newsroom writer David Handelman, posted three days before Sorkin met the press. It slammed the original report in The Daily as inaccurate on several counts, including its assertion that only one writer was returning for season two. "Three [writers] were [brought back]," Handelman wrote. (He was not one of them.) But the post also quietly noted that eight had been employed, leaving five people not returning, which meant most of the Newsroom writers had been fired! Either that, or they all oddly chose to depart a hit HBO series already renewed for a second season.
Presented with these apparently contradictory scenarios, we finally began to "ask the damn follow-up(s)." We first tried to get HBO to confirm how many writers were coming back and how big the staff on the show had been. The network supplied no answers. We then tried calling and e-mailing several of the reps for the writers on The Newsroom. None replied to our inquiries. So we began harassing agents with deep knowledge of Hollywood TV series staffing, including some at the various agencies that rep the Newsroom writers. Breakthrough! Two different, very well-respected television agents in a position to know what had happened told us that they understood that three of the eight season-one writers on the show would be back. At least four and possibly five writers from season one aren't returning, they said.
Despite the strong evidence that at least half of the Newsroom writers are not coming back next season, it appears Sorkin intended the journalists in the room at TCA to leave thinking The Daily had gotten it all wrong and that there had only been "a couple of staffing changes." Perhaps he did not technically lie when he said the staff was "not fired," but that's a Clintonian distinction. Hiding in the spaces between between "fired" and "not re-upped" and "left to pursue other opportunities" is exactly the sort of obfuscatory tactic against which Will McAvoy loves to rail. What's more, if Sorkin did purposely mislead the press, what might have been a fairly common Hollywood action (shaking up a staff) suddenly seems to be something that, at the very least, is comically ironic: The executive producer of a series that's all about the need for ethics and accountability purposely trying to hide the truth, either because he wanted to protect the reputations of the writers he opted against bringing back or because he didn't want his show to appear to be "troubled."
Vulture asked HBO if Sorkin could confirm that five writers would not be returning and whether they left of their own accord. In response, HBO gave us this statement from Sorkin's publicist: "Aaron addressed the staffing story at the TCA conference because he felt that to stay quiet was unfair to Corinne Kingsbury. He won't be speaking anymore about internal process stories as he feels they're a distraction for the viewer." So, to review: About a week ago, Sorkin/McAvoy was urging journalists to not "be a facilitator for whatever bullshit the guest wants to feed your viewers." And then, when journalists asked Sorkin to clarify what he meant when he said his staff wasn't "fired," Sorkin simply … refused to answer the question. Where does this leave us? If only we could ask Will McAvoy for some advice.