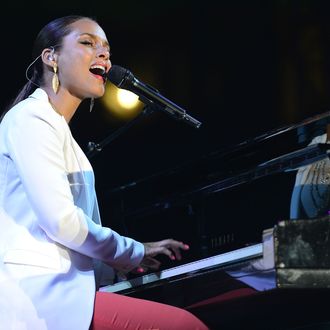 Recording artist Alicia Keys performs at City Of Hope Honors Clear Channel CEO Bob Pittman With Spirit Of Life Award at The Geffen Contemporary at MOCA on June 12, 2012 in Los Angeles, California.
Photo: Michael Kovac/2012 Getty Images
When Alicia Keys announced the title of her upcoming album — Girl on Fire — more than a few Hunger Games fans wondered if it was a reference to Katniss Everdeen. But Keys tells Entertainment Weekly that it's not: "It was such a shock when I heard about The Hunger Games — I wasn't aware of the book at that point. And I didn't realize that, I guess, that's what they call the one girl … But, no, it has nothing to do with The Hunger Games." Well, that's her choice.