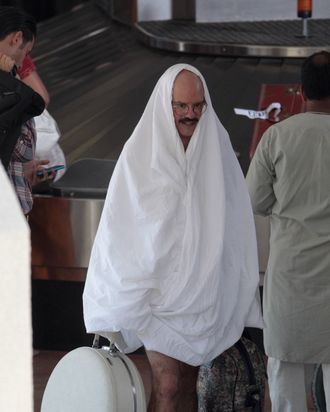 August 14th 2012 Burbank, CA. David Cross & Portia de Rossi film film a scene for the cult hit Television show, "Arrested Development" which last aired in 2006. Six years after being cancelled a fourth season has now begun filming for Netflix. The first scene to be filmed took place at the Burbank Airport with original cast members David Cross & Portia de Rossi . The Burbank Airport doubled for an airport in India with actor David Cross wearing a humorous version of the Sari.
Photo: Eric Ford/On Location News
Netflix is currently shooting the fourth season of Arrested Development, but when will the streaming-video giant make the new batch of episodes available? A spokesperson for the company has now narrowed down the debut window a little bit: Expect to get your long-delayed Arrested fix sometime in spring 2013. Taste the anticipation, Michael!