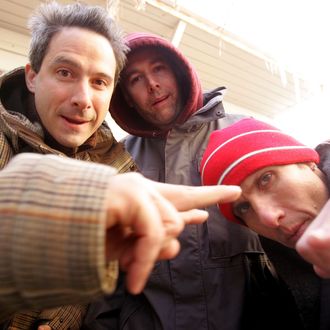 MH1029_BEASTIE_BOYS
Photo: Mark Mainz/Getty Images
Within days of the news that late Beastie Boy MCA willed that none of his music be used in advertising, the Beastie Boys are suing Monster Energy Drink for doing just that. The beverage company used the Beastie Boys' music and images in a web ad campaign to promote their "Ruckus in the Rockies" event, as well as specifically featuring their names, thus giving the impression that the group endorsed the event and approved the music, which — surprise — they did not. Here are the specifics of the suit, which was filed in U.S. District Court in New York on Tuesday:
The suit claims copyright infringement and violation of the Latham Act, which governs trademarks and endorsement. It also cites violation of New York's civil rights law. It seeks a preliminary and permanent injunction, as well as statutory damages of $150,000 for each infringement of their works.
Representatives from Monster had no comment, but at $150,000/infringement for a campaign that "borrowed" so much of the Beasties' material, they're probably looking at a monster fine.