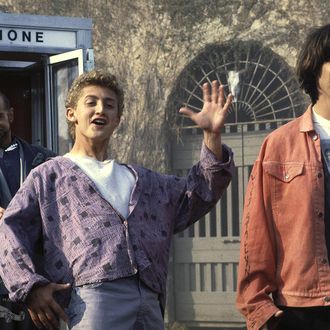 Photo: Metro-Goldwyn-Mayer Studios
Strange things are afoot at the Circle K, dudes: Vulture hears exclusively that a long-thought-impossible third Bill & Ted film is coalescing — and yes, both Keanu Reeves and Alex Winter are attached to star.
Original Bill & Ted creators Ed Solomon and Chris Matheson have also attached Dean Parisot (Galaxy Quest) to direct their script. Unlike so many recent studio remakes, which have simply recycled old material for a new generation, Solomon and Matheson took the unusual step of writing their third Bill & Ted script on spec in an attempt to ensure a take that would address where Mssrs. Ted Theodore Logan and Bill S. Preston, Esq. are in their lives today as opposed to being a reboot or remake. Insiders tell Vulture the hope is to make a mid-priced studio comedy like Hot Tub Time-Machine.
Where the third film might land is still not clear: MGM Pictures still owns the rights to Bill & Ted, but we hear that this new package is currently being shopped to other studios to co-finance it. (This, of course, is a tactic the recently back-from-the-dead MGM is also currently employing on Valley Girl, another planned eighties remake. Best known for having a very young Nicolas Cage tell us to "fuck off, 'fershure, like, totally!" that project was recently set up at Paramount Pictures.)
But even if Bill & Ted 3 does get set up at a studio, it would need to wait until Parisot finishes directing the sequel to Lionsgate's 2010 film RED, which starts shooting this spring. On the other hand, this does leave plenty of time for younger audiences to Google "phone booth" and try to comprehend this artifact of the ancients.
Solomon and Matheson, meanwhile, are seeing the finishing touches being put on their Rapturepalooza, a Lionsgate horror-comedy that Matheson wrote and Solomon produced. It stars Anna Kendrick and Horrible Bosses co-star and screenwriter John Francis Daley, and follows two teens who must brave the apocalypse and defeat the Antichrist.
We'll keep you updated on where Bill & Ted 3 lands if we can — or if it doesn't, which would be like, totally, heinous — and what this latest adventure might be called. In fact, now is probably a good time to take title suggestions. Thoughts?