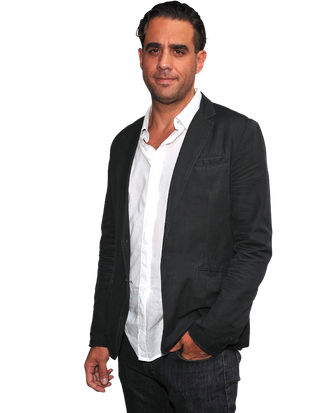 Bobby Cannavale.
Photo: Fernando Leon/Getty Images
Bobby Cannavale is fresh off a season-long arc on Nurse Jackie and a continued run on Boardwalk Empire, and when New York's Kera Bolonik called him up to talk about his forthcoming role in David Mamet's Glengarry Glen Ross for the magazine's Fall Preview issue, he was about to start shooting a Woody Allen movie. In other words, the guy is busy. But he gave us enough time to talk about the play (in which he'll star as Richard Roma opposite Al Pacino's Shelley Levene). Plus, what it was like to finally meet Pacino, and why he talks to himself on the street.
Hi, Bobby. You're calling me from San Francisco, right?
I'm in San Francisco, and I just met one person from the cast [of Woody Allen's new film] to talk about our scene, and now I'm meeting with another person to talk about tomorrow's scene. I have first-day jitters. I start tomorrow. I walked nine miles today so that I could be tired tonight and actually get some sleep. Seriously, I walked nine miles.
Even for a New Yorker that's a lot. That and a Klonopin or a Scotch should do the trick.
I am hoping it's going to work. I never sleep before the first day of work.
So he's filming back in the States now. That's a big deal.
Yeah, and in a great city, too.
One that he's relentlessly made fun of in the past. I can't wait to see what he does to San Francisco.
Yeah, he does make fun of it. I'm glad to be here, though. It's my favorite city in the country. It's pretty nice.
I just wanted to say before we started talking about Glengarry, I was so moved by your performance in this past season of Nurse Jackie.
That's nice to hear. Thank you!
I was thinking about what it would have been like to work with your son [who plays his character's drug-addled son in the series].
It was beyond. You never actually expect to ever work with your kid, and I love being around him, so it was just another facet of our relationship. We got to experience another great bonding moment. It was really kismet. Edie [Falco] loved him, and he had most of his scenes with Edie. For my money, Edie is one of the best actresses we have, period, and she fell in love with him, and he was lucky to have her like him as much as she did. So for his first time out, he — as my family would say — really stepped in shit.
With Glengarry: Here's a play that was written 30 years ago, but it's still very relevant today. We're still in a culture, more now than ever, where greed trumps humanity.
That old saying, "Desperate times call for desperate measures" — I think we're in that time right now. I think we're seeing it happening in politics, certainly. There's a great line in the play, and it's a short line, but one of the characters says, "I gotta eat." The guy has been lying his ass off for the entire play to get what he wants, but at the end of the day: "I gotta eat." I think that's the sentiment that's familiar right now. And so I think the play is timeless.
Had you met Pacino before?
Twice. Every play I've ever done in New York — my little mantra, "Al's coming tonight." I thought for sure he'd come to see Hurlyburly. I thought for sure. And everyone would make fun of me, and say, "Pacino's in the audience tonight." He never came. So finally when I sat next to him at the Tonys, we were nominated against each other, I had to turn to him and say, "Mr. Pacino, it would mean everything to me" — I called him Mr. Pacino — "if you could come to see my play." And he said, "I'm gonna come; I promise I'm gonna come." And he came to the last show [of The Motherfucker With the Hat]. And then he stayed in my dressing room for like two hours. He wouldn't leave. Just talking to me, talking to me, talking to me, about acting, about me, about him, about how we should find a good play. And then a few months later I got the call asking me if I'd have an interest. Duh. It was like the most "duh" phone call I ever got [laughs].
Do you expect him to dole out a lot of advice about how he played Richard Roma?
I have no idea. I haven't heard, I doubt it. I have zero expectations going in. I have seen the guy onstage every time he's been onstage in my lifetime. He's just an animal. And he's always part of the ensemble. The guy is not a grand-stander, he's not a show-off, he's part of the ensemble every time I've seen him. So I imagine he's going to attack that role the way he needs to and let me do my thing, whatever that is, and I'm not really worried about it. I think he's got his own thing to do.
You've just had a nonstop couple of years, so I understand why you're walking nine miles. You had Nurse Jackie, then Boardwalk Empire, now this Woody Allen film, followed by the play.
And I'm not done with Boardwalk. I just took two weeks off to shoot this film, and then I have to go back and finish Boardwalk, and then I start rehearsal the day after that. I pretty much keep going like that. I like living like that. And the nine-mile walk, I do that shit in the city, that's my little break. I don't need much more than that. All I ever wanted to do is to be a working New York actor. And I'm managing to do it.
In every medium. Big screen, small screen, stage.
Yeah, and I'm lucky that I get to stay at home, mostly. It's weird that I'm going to San Francisco to work with Woody Allen [laughs]. I don't ever travel. This is the first time I've gotten on a plane in a year. To work with a New York filmmaker.
Has he announced the name of his film yet?
No. It's Woody Allen Summer Project.
Your characters on Nurse Jackie and Boardwalk aren't nice. You've come a long way from playing the sweet boyfriend of Will Truman on Will and Grace.
A career is long, hopefully — I want my career to be long — so hopefully it'll go through a bunch of different stages and I'll never really get figured out. Earlier in my career, I was always playing the nice guy. Then I was always playing the gay guy who you think is straight and is not.
How do you keep all the characters clear in your mind?
That's why I walk all the time, seriously. I've got them in my head all the time. I'm pretty much always in my head with these characters, which is pretty much why you'll see me walking in the street talking to myself most of the time. Thank God I live in New York.
Maybe if you put an earpiece in, people will assume you're on the phone.
My son said that to me the other day: He said, "Dad, I saw you walking in the neighborhood the other day, and I didn't cross the street because you were full-on talking to yourself, and you didn't have the phone thing in your ear. And I thought, Wow, that's how Dad gets away with people not stopping him all the time. I watched people walking by see you, and they wouldn't dare say anything to you because you were full-on talking to yourself." [laughing]
I miss the image of an old-fashioned crazy person talking to themselves. Everyone gets away with it because everyone is talking, or pretending to talk, on the phone. Everybody is passing for normal now.
Yeah, right? Those earpieces fucked everything up.