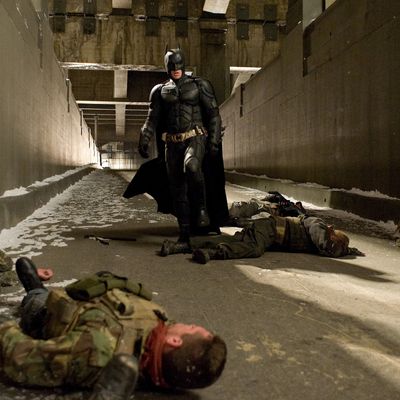 Photo: Ron Phillips/Warner Bros. Entertainment Inc.
This Weekend's Winner: Even if it is still almost $40 million behind its penultimate predecessor in total grosses, The Dark Knight Rises did not fall by much in its third week, hanging on to the top spot (No 1. with an estimated $36.4 million) and declining only a little more than 40 percent from a week prior. It has now passed $350 million in domestic earnings, making it the year's third-highest-grossing film (behind The Avengers and The Hunger Games).
This Weekend's Losers: Total Recall might be better titled Total Loss — with the $125 million picture barely cracking $26 million, that's just a teaspoon better than the domestic opening for Battleship and a little worse than John Carter. Meanwhile, The Watch halved its already meager audience (No. 5 with $6.4 million) and after ten days in release, has barely made $25 million. Also suffering head trauma: Box office overall, which is down more than a quarter (28 percent, to be precise) from the same time last year.
How It All Went Down: Those not staying at Wayne Manor broke in two clear directions this past weekend: The third Diary of a Wimpy Kid arced toward the female (58 percent) and the younger folk (62 percent under age 25), while Total Recall skewed male (58 percent) and older (53 percent age 30 years or more).
You could try to pin the weak showing of Total Recall on public fascination with the Summer Olympics, which is notching its highest ratings in decades. (Specifically this weekend, swimmer Michael Phelps won his seventeenth gold medal and swam his last race.) But, as one former studio chief explains, one of the film's major failings was that it was asked to punch too far above its weight.
"This was/is a genre film," e-mailed one of our producer spies, speaking of the original Recall and its remake. "But you make genre films at a price because the audience, by definition, is more limited. So, if this film had been made at a genre price (under $30 million, à la director Len Wiseman and co-star Kate Beckinsale's Underworld films) then $26 million would be a wonderful opening. But when you make it at $125-plus million, then it's a disaster."
Indeed, the original Total Recall moved beyond its genre to become an "event" movie with the help of a truly iconic star in Arnold Schwarzenegger (though you'd never know it from his lobotomized DVD commentary), but its heir was lacking. Instead, son of Recall, which barely opened above the $25.5 million mark established by the 1990 film in its first weekend, received what our producer calls "genre level casting" in Colin Farrell, Kate Beckinsale, and Jessica Biel — stars who "have never elevated any of their movies to event status."
Recall, says this producer, also suffered from "lather, rinse, repeat" marketing materials that emphasized action that was relentless but not transcendent. "There wasn't one image or shot where a more broad audience said 'WOW! I have to see that!'" One can expect the film's heavily male audience to either search for their action kicks this upcoming weekend at The Bourne Legacy or look to get their funny bones tickled by Will Ferrell and Zach Galifianakis in The Campaign.
Over in indie land, writer-star Rashida Jones's Celeste and Jesse Forever earned $112,000 on four screens (a very solid $28,000 per screen average) in its opening weekend. And in its eleventh week, Wes Anderson's Moonrise Kingdom made $1.2 million. That film's $40.8 million gross brings it up right behind The Best Exotic Marigold Hotel ($45 million) as the year's highest-grossing indie so far.