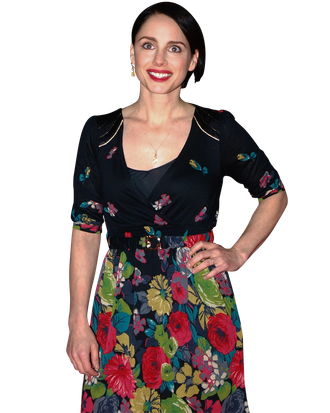 Laura Fraser.
Photo: MAX NASH/AFP/Getty Images
"Lydia Rodarte-Quayle — somehow her personality seems to match her name." This is one of the first descriptions Laura Fraser received when she was cast on Breaking Bad, and it's brilliantly apropos. As the skitterish, controlling, Stevia-loving Madrigal executive who supplies Walt and company with methylamine, Fraser is a perfect counterpoint to Jonathan Banks's unflappable calm. The Scottish actress talked to Vulture about landing the role, modeling her performance after Jodie Foster and Tilda Swinton, and seeing the upside of losing a lead role on Homeland.
What was your audition like? What scene did you read for?
I didn't actually go into a room. It was taped. My manager sent me a scene that was similar thematically to my first scene in episode 502, with Mike in the diner. It was completely different dialogue and unconnected to the season-five story line. But I was told that this was a smart businesswoman who had a nervous energy with a tendency to bristle. So I get that scene and the casting director Sharon Bialy gave me some notes and gave me the real scene in the diner with Mike. Then I got to read what Vince had actually written in the script about the character. It said "Lydia Rodarte-Quayle" — somehow her personality seems to match her name. Which does tell you quite a lot. And it also mentioned that physically she wore huge sunglasses, incognito-like. I had all that information, so I got the scene again and on my third try they offered me the part. I never met anyone. I still haven't met Vince.
Really? How has this not happened?
Well, I believe he's in L.A. The episodes that he was there for, I'd just left or I wasn't in the episode. So he's like this majestic phantom that everyone talks about every day, all the time, that's invented this whole crazy world — but I actually haven't met him.
Your character has such an interesting last name — one name is a designer, the other is the name of an ex-VP. Were you told where the name comes from?
I know! It's such an odd name. No, I don't have any answers. I know when you would ask whoever was directing an episode they would just have a guess, but no one had any confirmation. I'd love to get the real story, but I'm just sort of making it up as I go along.
When you got the role, you still hadn't seen Breaking Bad. Did anyone on set give you guff for not having watched the show?
Well, Jonathan Banks was telling me to watch it. Because I kept going, "What have you [Mike] been up to? What's your game?" And he's like, "Well if you watch the show … " But I was a little bit too nervous to watch it before — I was wanting to stay in the world that I was reading from in the script. But after that first episode I went and watched the whole thing, because at that point I was like okay, I'm a part of it. I couldn't resist any longer.
Mike is so unflappable. Is Jonathan Banks that composed in real life? Has anyone ever tried to prank him just to mess with his composed state?
He laughed a lot and is a hell of a lot sweeter in real life than Mike. I don't think anyone could be like that in real life, period. God, that'd be awful, wouldn't it? I was very scared of him the first day of filming, absolutely terrified of him. And he was very playful with me and very kind, but because we shoot so fast and I had to concentrate so hard, and because of my nerves on my first day, I was just kind of in character. I think he thought that was quite funny. After shooting that first day he gave me some pasta from Trader Joe's.
He shared his lunch with you?
He gave me this ready-made dinner and was like, "Take it." He took care of me.
Lydia's nervous energy is so entertaining right from the start, especially next to Mike's Zen calm. Were you channeling a particular person or actor?
When I play Lydia, I was consciously trying to breathe from my upper body. No diaphragm breathing at all. Just chest breathing. Very light, fast breathing. I kind of felt lightheaded at the end of the day, and I kind of got a sour stomach sometimes because feeling that nervous energy constantly throughout the day, it kind of hurts a little bit. I watched people like Jodie Foster and Tilda Swinton, roles where they're kind of cornered and frightened, but they have a sort of dark, strong energy at the same time.
Lydia's already had a couple of brushes with death. Whenever you got a new script, would you scan it to make sure there were no death scenes for you?
Yeah [laughs]. There's this heightened sense of urgency as I go back for filming with each episode, because I'm like, Am I gonna die this time? You get the script sometimes just a couple days before, and I couldn't resist just looking to see if she was dead. Because I didn't know if they would tell me in advance or not. So yeah, it's kind of a roller-coaster ride reading those scripts.
Do you speak German, or did you just learn lines for that scene in your office?
I struggled to learn those lines. I'd done a little bit of German when I was 12 in high school, just basic German. It was an hour a week where we just kind of arsed around, so I kind of remembered a little bit. But [Lydia's lines] was like corporate-speak and I did not have a clue. So I got a recording of someone speaking it in German and just practiced and practiced and practiced and bored my family to tears. Actually, my 6-year-old daughter can say most of it.
Is it at all vindicating to get this great role in Breaking Bad after you lost the role in Homeland [she played Mrs. Brody in the pilot but was later replaced]?
It was wonderful to get this part because yeah, I mean, I know that happens, people get replaced, but I was really sad to leave that part because I loved that part. But if I hadn't had lost that, I wouldn't have got this wonderful role. So I'm actually just super happy. I made peace with it. You can't take these things personally, even though you do for a couple days. You're like, Ahhh, it hurts. But you know, it's just one of these things in the industry that you have to deal with sometimes. Lydia is a fucking awesome role and I just feel incredibly fortunate.