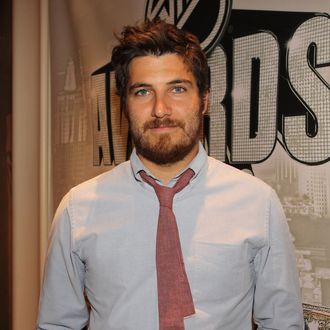 Photo: Isaac Brekken/Getty Images
It's been far too long since Happy Endings fans have been able to enjoy an original episode of the ABC comedy: The show's season finale was all the way back on April 4. And because Alphabet execs seem to enjoy torturing die-hard fans, the network last week revealed that Happy won't begin its third season until Oct. 23. (We'll spare you the math: That's six months between originals). Vulture can't speed up the hands of time, but we can offer Happy campers the salve of spending a few minutes with series star Adam Pally, whose Max Blum (in full Mandonna garb) was last seen serenading his friends with a rockin' cover of Like a Prayer.
When it eventually returns, producers told us we can expect to see Max paying homage to a classic Kathy Bates role, quite possibly Misery. (Pally's response when hearing of this? "Pass! If it's not a direct Harry's Law spin-off, I'm not doing it.") We caught up with Pally last week at ABC's portion of the TV Critics Association press tour and found out how's he been spending his hiatus, what forms of pop culture he's soaked up of late, and his idea for a Max–Frank Ocean connection. (Note: A couple of questions below came from reporter colleagues from other outlets).
So what did you do this summer?
I did a few movies. There's A.C.O.D. And then I did another high-profile movie I'm not allowed to talk about.
Is there a superhero in this movie?
I'm not at liberty to say. But it was really fun. And big. I'm also writing a movie for Will Ferrell and Adam McKay. And I'm a dad to a 7-month-old.
Mazel tov.
He's so cute. He's just starting to roll over. We call him Farley. Because he's a large baby. And he likes to roll over by doing a Fat Man in a Little Coat dance, like in Tommy Boy. He's a good shit. I'll keep him.
Will Max get a boyfriend this season? (Asked by another reporter).
Max will definitely have a few love interests this season. But this season for Max will be different in other ways. I think Max will have hard time with the fact that Penny will start dating someone. I think that brings up some weird feelings for him, some old ones.
You look like you've dropped a lot of weight. (Noted by another reporter).
Thank you. That's very sweet of you. If no one says anything about my weight loss, I'm like, "What the fuck is up with that?" I'm obviously not a guy who focuses on weight too much. But for certain jobs, you have to gain or lose weight. For one of the movies I did this summer, it was better that I get a little thinner. And now I'm not in that movie, so I'll put a little weight on.
Will you be doing more of your own self-generated marketing for the show this season?
I will do some more jokey-posters. But it's not television shows that I'll make posters for. It's porn.
I'm curious what pop culture you soaked up this summer. Any TV shows you obsessed over?
My wife and I ran through Justified in, like, a day. And that is such a funny, amazing show. I can't wait for it to come back.
Would you want to guest star on it?
I'd love to, but I don't think they'd have me. I don't think there's room for Jews in Kentucky.
Any other TV shows?
Portlandia — love it. I can consume three episodes of it without even realizing I'm watching TV.
What's the best movie you saw this summer?
I could be a company man and say it was The Avengers, which I really liked. But I loved Moonrise Kingdom. I loved it. It reminded me so much of Wes Anderson's older work.
How about music?
I got to see Jack White. I love his new album. There's a song on the album called "I Think I Should Go to Sleep" that my son loves. We play it on a loop around the house, and he just bounces around. I got to see Tenacious D. And the Frank Ocean album is amazing. I would love to do a joke [on Happy Endings] where Max is the 19-year-old who fell in love with Frank Ocean.