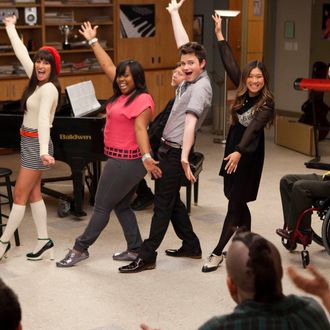 GLEE: The glee club performs in the "Goodbye" season finale episode of GLEE airing Tuesday, May 22 (9:00 - 10:00 PM ET/PT) on FOX. Pictured L-R: Lea Michele, Amber Riley, Chris Colfer, Jenna Ushkowitz and Kevin McHale. ©2012 Fox Broadcasting Co.
Photo: Adam Rose/FOX
One of the many, many wonderful aspects of "Call Me Maybe" is the fun series of covers it has spawned. Now Glee wants in on the action, and so of course the fourth season premiere will include the New Directions throwing a wish in a well.