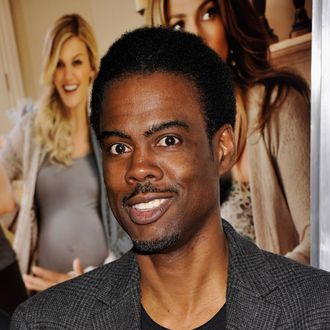 Photo: Stephen Lovekin/Getty Images
Chris Rock has a terrific Q&A in the Times today about the sorry state of entertainment ("If Sydney Pollack was around today, he'd be directing episodes of True Blood"), why he turned down a role in A Behanding in Spokane ("I didn't feel like leaving my nice house, my palatial estate to drive into Manhattan and get called nigger every night"), and his relationship with Louis C.K. ("I feel like I'm James Brown, and Jimi Hendrix was in my band"). But the best part is his defense of the upcoming Grown Ups 2.
… Dude, people love Grown Ups. I don't care what the critics say. Who won the Academy Award this year? The Artist? Hey, The Artist was great. Grown Ups is better than The Artist, and it's better than The Artist 'cause the audience says so. No film critic's going to say it, but Madagascar 3 is better than The Artist,and it's better because it makes people feel better. That's ultimately what it boils down to. Carrot Top's better than Mort Sahl. Is he a better writer? Are we going to jot down Carrot Top's prose 100 years from now? I'm not saying that. What I'm saying is, Carrot Top makes people feel better than Mort Sahl ever made people feel.
Wait, how did I become analogous to Carrot Top? wonders Madagascar 3.