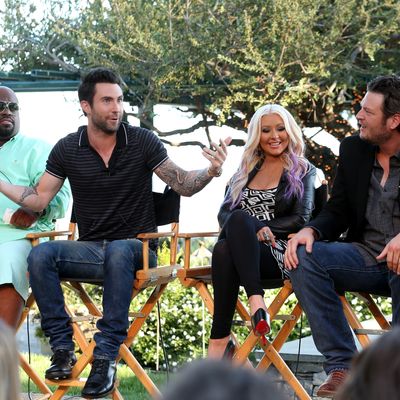 The Voice's Cee Lo Green, Adam Levine, Christina Aguilera, and Blake Shelton speak onstage during the NBCUniversal's "The Voice" Press Junket and cocktail reception on August 12, 2012 in Los Angeles, California.
Photo: Christopher Polk/Getty Images
NBC invited reporters to the beachside Malibu estate of executive producer Mark Burnett Sunday night to unveil the creative twists coming to the third season of The Voice, which premieres on September 10. Coaches Christina Aguilera, Cee Lo Green, Adam Levine, and Blake Shelton were on hand to talk up the show's new "knockout rounds," and share their thoughts on Britney Spears and why The Voice has yet to launch a pop star. We also got a sneak peek of the latest coaches' medley (hint: it moves like Jagger). Here's what we learned:
Coaches will now be able to steal contestants from one another. To "reignite the energy of the chair" during the battle rounds, producers have added more button pushing! Coaches will be able to twice rescue a losing battle round contestant from another's reject pile. In a clip NBC previewed for reporters, Adam, Christina, and Blake all hit their buttons to jockey for the singer Green chose not to move forward.
… but some contestants won't be worth saving. So, ouch, some will be rejected twice.
Knockout round is just a fancy way of saying "More solos!" After the battle rounds, coaches will again pair their remaining contestants to sing for their lives — only this time they'll sing solos back to back. (And only after the blind auditions and battle knockout rounds will we get to the live shows. Get ready for the longest season of The Voice yet, America.)
The coaches know they haven't found a Kelly Clarkson yet; they don't think it's that important. It's no secret we can barely remember who won either season of The Voice (or The X Factor, for that matter), but Adam said it was unrealistic to expect them to produce a star every time out. "There are a lot of elements that need to magically fall in to place in order for that to happen … we can't micromanage everything that happens after they're on the show," he said. "We would love to see a star born out of this show, we're positive it will happen, but we're not hinging the validity or relevance of this show on that because that's just ridiculous."
We hope Billie Joe Armstrong is the bestest, meanest mentor ever. This year's celebrity mentors are as follows: Christina's got Armstrong, Cee Lo has Rob Thomas, Adam has Mary J. Blige, and Blake has Michael Buble.
Christina doesn't think you need to worry about Britney. "I welcome her to this family of fun and entertainment and finding new talent," she said when asked about her fellow former Mouseketeer joining Simon Cowell's The X Factor. "Britney is a pro. I don't know what she's going to offer specifically herself as a coach, but I know she's a pro, and she's gonna give, I think, great advice."
Adam's glad he could pave the way for you, too, Mariah. "When I see other people gravitating toward [doing a music competition show] or deciding it would be a good idea for them, really accomplished people, I wear it as a badge of pride. We made this cool."
It doesn't sound like Christina will be back for the spring edition of The Voice. Why? She's getting ready to release a new single, titled "Your Body," from her upcoming album, and when asked if she'd be returning, she practically said "I'm outta here!": "We're not speaking about anybody going or leaving or the details of that," she began, "but I just know I can only be great as a coach if I keep on re-inspiring myself, if I keep going out, making albums, recording, and gaining new stories and experiences from the road so I can share with my team." Cee Lo, on the other hand, acted as though he'd love nothing more than to stick around in the swivel chair (!!!). "I won't be touring. I want to keep doing the show," he said.
"Your Body" has Adam's seal of approval. "I heard that song and I hate you because it's so good," he told Christina.
Christina still hates pants. Because what do you wear to perform the Rolling Stones' "Start Me Up" during a medley if not a blinged-out leotard?