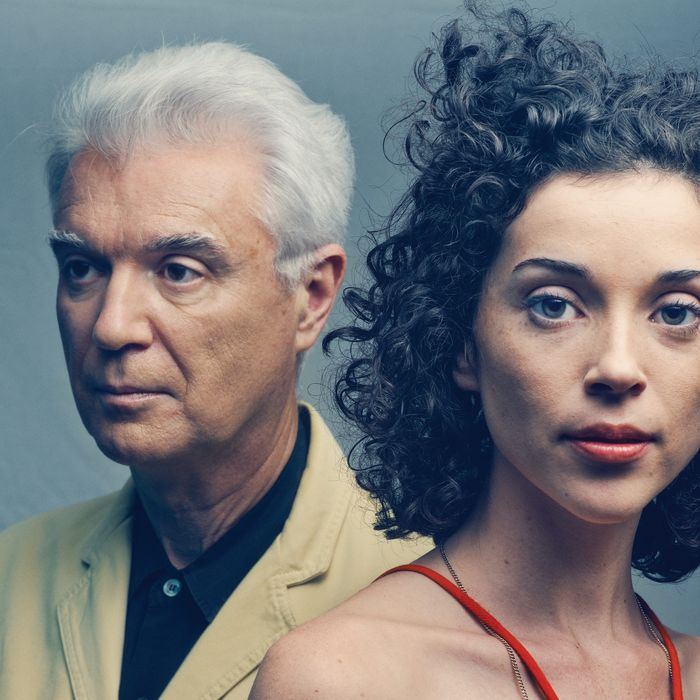 David Byrne and Annie Clark who records under the name St. Vincent
Photo: Photography by Christopher AndersonMagnum/New York Magazine; Makeup for Clark by Kouta for NARS Cosmetics at Jed Root Inc; Hair for Clark by Fernando Torrent using Rene Furterer
Annie Clark is a Texan-raised musician, possibly the best guitar stylist in indie rock, and the maker of three ornate and slyly twisted pop albums under the name St. Vincent, a moniker taken from the recently shuttered West Village medical center. ("I was getting a lot of tweets about that," she says. "People thought I was the hospital.") David Byrne began his career as the captivating front man of Talking Heads before branching out into more or less everything: film, label-running, installation art, a disco musical about Imelda Marcos, blogging about science and bicycles. (His forthcoming book, How Music Works, is full of clearheaded musings on why pop functions the way it does.) They're both stylish: good hair, good wardrobe. They attended last year's White House Correspondents Dinner together, at NPR's invitation, though wire-photo captions identified them as ­Byrne and "a guest." And when word began circulating that they were working on an album—Love This Giant, out September 11 on 4AD and Byrne's own Todo Mundo label—the universal reaction was: Boy, does that make sense. That makes perfect, perfect sense.
"I'm curious why people thought that," says Byrne, in the signature "David Byrne is curious" voice that someone Clark's age might have grown up hearing on the radio. "We both think that we approach songwriting somewhat analytically, somewhat like puzzle-solving. I don't know if other people sense that. Maybe it's that we both have a slightly odd stage presence?" By which one assumes he means: poised, self-contained, a little formal. Unruffled calm interspersed with nervy tics. The sorts of postures that get a person accused of being aloof. Sitting together in a Soho studio, they're still and thoughtful, like people whose thoughts under­go vigorous vetting before being released into the world. "One of the things I like so much about David's work," says Clark, "is that he's able to live at the intersection of the artful and the accessible, and I think that's where I've tried to live as well." Then she turns to Byrne to make sure she's not misrepresenting his agenda: "Is that okay?" she asks, laughing.
This whole project stems from the ­second time they met—at the Housing Works bookstore downtown, where Björk was performing with the Brooklyn band Dirty ­Projectors. One of the organizers asked if Byrne and Clark would be interested in trying a similar collaboration. While sorting out what kinds of instruments would sound good in a bookstore with a small PA system, Clark thought of horns—an idea that grew, over the course of three years, into a full album built around brass arrangements. Artful tangles, washes, and architectures of horns, more horns, some guitar, and a few more horns for good measure.
And yet the two of them sound more self-conscious about the horns than you'd ­expect. "A lot of people, hearing a description of the project, assumed it might be an artsy indulgence," Byrne wrote in the press material, "but somehow it didn't turn out that way. It's a pop record." Are horns really indulgent? "I was just guessing," he clarifies. "People might hear we're working together and think, Oh, that sounds interesting—and then they'd hear every song's backed by a brass band, and they'd think, Oh. It's an indulgent art project."
"People can have the impression that brass is kind of stuffy," says Clark. "Something for the seated concert hall, instead of something that can have a good beat behind it." But Love This Giant isn't stuffy. The horns span all the way from concert-hall shading to percussive funk and pop. There are good beats behind them, sequenced by producer John Congleton. The song­writing-as-puzzle-solving approach is audible; the songs feel like complex, fine-tuned machines, full of interlocking parts and precise, surprising movements. Over the long writing process, ideas bounced back and forth between Clark and Byrne, with parts getting transposed from computer to guitar to computer and new thoughts getting tacked on one by one. "Pretty soon," says Byrne, "you end up with something where the kernel that was the beginning is just a little thing," one cog with a machine slowly assembled around it. "We tried other things. I sent Annie some lyrics early on, just in case she was someone who starts with words and then writes—"
Clark shakes her head rapidly: "Yeah, I had no idea what to do with that."
"Yeah, that was … not the case."
So they wrote lyrics in collaboration, chasing after big themes. "When we started playing around with lyrics," Byrne says, ­"Annie pointed out that the sound of the brass is pretty big, and it kinda demands that whatever you're talking about also be large. Things with a certain scale, natural forces or humanity." The giant in the title turns out to be television, the new friend Byrne ­describes trying to make on a track called "I Should Watch TV"—which he approaches as a self-improvement exercise, an effort to understand mass culture and, by extension, the masses.
The funny thing about that sense of scale, of course, is that the horns chosen for a small bookstore show are about to be taken out for a national tour—on which Byrne and Clark will have to deal with the logistics of an eight-piece brass section, and the eight-piece brass section will have to replicate parts that, in the studio, used as many as sixteen "tough-guy New York session players."
"This was an expensive record!" says ­Byrne. "Maybe not as much as a Nicki Minaj record, or whatever, but for different reasons. Just the number of players that were on every song. That doesn't happen very often anymore. These days there's always a feeling—or at least I always have this feeling—that says, 'This might be your last chance to do something like this before the music business …'"
Clark laughs: "Totally tanks?"
"Spend the last few pennies in your pocket and do something you might not be able to in the future," says Byrne. "Occasionally I had that feeling: Do this while you can."
This story appeared in the August 27, 2012 issue of New York Magazine.