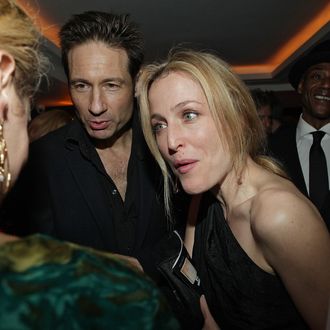 Photo: Roger Kisby/2010 Getty Images
For nearly equal spans of time, there have been parties rooting for the existence of aliens and for a real-life love story between X-Files co-stars Gillian Anderson and David Duchovny. Now, for whatever reason (perhaps because Anderson acted understandably cagey with a British Sunday Times reporter when grilled about her love life), the good site CelebDirtyLaundry.com has opted to "report"/"invent" a rumor about the Mulder and Scully romancing in 2012. "Just as news breaks that she's split from her boyfriend of six years, Mark Griffiths, CDL has learned that she's living with her X-Files co-star David Duchovny in Los Angeles," the site writes, touting an exclusive — and of course secret — source. This same prestigious article goes on to wonder, "Is this why Gillian keeps talking about her bisexuality, to keep the media off the trail? Do you think Gillian left Griffiths for David? It kind of sounds like it. It's not like she's just hanging at his place while she gets over her break up."
Now, hang on. Let's hash this out for a sec.
A little less than two years ago, Vulture gleaned the following things directly from Duchovny and Anderson: Anderson was living in London, and not temporarily; they were only seeing each other twice a year; they kept in touch by what Anderson called "a little bit of texting, a little bit of BlackBerry action." That's two points against this rumor, one point for. (If you disregard the idea that lives can change a lot in two years, anyway.)
Naturally there is the issue of Robsten's demise to take into account here. Does the universe consistently require a major romance between co-stars with onscreen tendencies to brood? Not sure; universe hasn't been keeping up its end of our BlackBerry action. But it's possible, and it allows us to suggest the following monikers for what's probably the 119th published time since The X-Files wrapped ten years ago: Duchovsten. Davillian. Gillid. Gillovny. Daverson. Just so much gold to be mined. And it cannot go unsaid that this one walking Valentine of a website would be thrilled to the point of psychosis if only this totally false rumor were true.