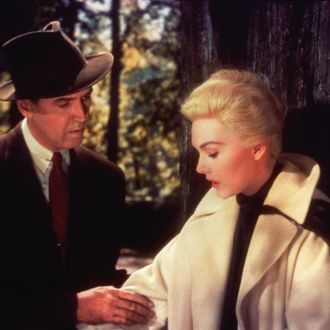 Well, the Sight & Sound poll of the best ten movies (sorry, films) of all time is out. It comes every ten years, and the suspense was whether Citizen Kane would yet again be number one. There was talk The Godfather and the Godfather II could bump it — they'd been considered together as one giant magnificent American epic. But unbeknownst to me they were decoupled this year, and both didn't make the list.
Number 1? Vertigo. I can see it. Actually, I have seen it — more than ten times, and it has never been my favorite Hitchcock. It's maybe the greatest blend of grave, even pacing — the camera ever contemplative — and perversity ever filmed. I guess that's why highbrow critics like it best. They live and breathe through refracted perspectives, through simulacra. My own Hitchcock favorite, Notorious, never looms large in these polls, mainly I think because it's so crisply paced, with no languid spaces on which to project. And North by Northwest is too much fun.
The rest? Kane, Tokyo Story, Rules of the Game, Sunrise, 2001, The Searchers, Man With a Movie Camera (a surprise), and The Passion of Joan of Arc. A good, safe list. You should see them all. But no consensus will ever satisfy me or anyone impatient with idea of a collectively voted canon.
I'm a bit peevish, having never been asked to participate in the poll. (There are more than 1,000 voters, critics, academics, directors.) I doubt you'd agree with many of my own idiosyncratic choices for the best films ever — even I'm unsatisfied, since the list lacks film noir and is longer than ten. My favorite film is The Lady Eve, followed by The Rules of the Game, McCabe and Mrs. Miller, Sherlock Jr., Nosferatu (or maybe Sunrise — the Murnau pictures switch off), Jaws (there, I said it), The Godfather I & II together (fuck you, Sight & Sound), Notorious, His Girl Friday, Seven Samurai, Singin' in the Rain, The Passion of Joan of Arc. Oh, maybe Smiles of a Summer Night, although I'm tired of it. My list makes my heart sing — and also ache for all the absences.
Anyway, congrats to Dziga Vertov and Hitchcock. My own goal in the next ten years is to see a thousand more movies and rejuggle my list from here to eternity. Hey — that's another one.