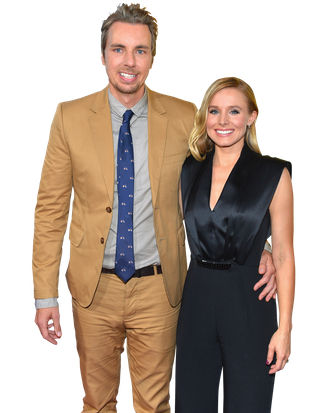 Dax Shephard and Kristen Bell.
Photo: Alberto E. Rodriguez/Getty Images
Real-life couple Dax Shepard and Kristen Bell give their relationship some gas in Hit and Run, a surprisingly romantic car-chase movie written and directed by its male lead. Not only does Shepard do his own stunt-driving (which there's quite a bit of, since his character is a former getaway driver), but he also gets vulnerable in the scenes where he fights with his fiancée, which have the feel of authenticity. Shepard's character — who calls himself Charlie Bronson — leaves witness protection to give his girl a ride to a job interview, but the reason for his being in WitSec in the first place catches up with them along the way, in the form of Bradley Cooper. Shepard and Bell were game to sit down together and chat with Vulture about teaming up on-screen, death wishes for their party guests, and whether Bell will appear on the last season of Gossip Girl (she's the titular character's voice).
Happy belated birthday, Kristen. You had a Hunger Games–themed party for one of your last birthdays. Did you do anything special this time?
Bell: No, I was working, so I couldn't do anything. It was a real bummer. Dax hadn't read [The Hunger Games] by the time of the last party, and I was like, "Please, please, just hold this basket of bread and put this bandage on your arm for me. You just gotta be Peeta!" And he was like, "Sweetie, I don't get it, I'm not going to do it, I don't understand it …"
Shepard: I felt like a poseur. Plus, I was real busy stringing lights up, you know? There was a lot of infrastructure for the party that needed to be completed. But if you want it, I'll do it.
Bell: So he did. Plus, he got the hors d'oeuvres, he served the drinks, he did everything. And we put District signs everywhere, did I tell you that? The bouncy house was the Capitol, because it looked like an evil castle. Over the house we put District 12, and then over the pool we put District 4, because that's water, and then the electronics district, District 2, was over where the iPod was. And as a joke, at one point we did want all our friends to bring weapons and fight to the death. Only one person could leave the party alive.
Shepard: I'm going to be blunt here: One man leaves. It'd be Beyond Thunderdome.
You saved money doing your own stunts and using your own cars in this film, but did the insurance costs go through the roof? I mean, here's the writer, director, producer, and star of the film, and he's risking his life …
Shepard: You know, I don't think our insurance provider was entirely certain about everything that happened on the movie.
Bell: He wasn't up to speed.
Shepard: We definitely had code things where our stunt coordinator would constantly come and yell at me in front of everyone, which we knew was just to calm down the locations person that was pissed off about something I had just done. We had all these ways of venting the angry people at us.
Bell: He'd come over and say, "I'm going to give it to you right now, okay?" And then he'd be like, [screams] "Don't ever pull that crap again!"
Shepard: [Screams] "What are you doing? Don't do that on the yard, Bell! What the fuck!" I'd fucking scream like that, and she'd act like a nervous Nellie.
Bell: We'd do what we had to do to make the film.
Shepard: In all senses of the word. Through hook or crook. I mean, we'd lie, cheat, and steal our way into delivering that movie.
Bell: Did we do anything really criminal? I mean, we stole a couple shots.
Shepard: We also sweet-talked officers, maybe greased them a little bit, because there's minimum requirements for how many patrol cars you need to drive certain cars on certain streets at certain speeds, and we may not have had the full detail, but we got it.
If you had to go into witness protection, what would you pick as your new identities?
Bell: I would be a baker in Jackson Hole, Wyoming.
Shepard: And I would be in Austin, Texas. But I would have to go with her to Jackson Hole, because we have to be together, in this fantasy.
Bell: I would go to Austin.
Shepard: Okay, we can be in either Austin or Jackson Hole. And you'll be a baker, and I want to mow. Some of my favorite memories are of riding lawn mowers, so I want to mow a cemetery or something. Just be out there for hours, daydreaming, cutting the lawn.
Did Kristen ever give you notes while you were writing the script?
Shepard: I went away for three weeks and came back and dropped a 138-page script on her bed. But definitely in the conceptual stage of it, before I went away, yeah.
Bell: I was more of a sounding board for ideas for it and learning what he was going to go away and write. It wasn't me giving him notes as much as him running things by me. "What if XYZ …?" I really didn't have the desire to create more of my opinion. I wanted more to see Dax's perspective through to the end, so I just tried to be his eyes and ears.
Shepard: … in the same way Hillary Clinton was really running the country. Like that.
Bell: Just to give him eyes in the back of his head. Not to give him notes. I don't even know that I could, because I think he's a lot smarter than me.
Shepard: Awww …
There's a powerful scene where Kristen's character learns the truth about your character's past and has to reconcile the person he was with the person he is now. Have you two had that moment in real life?
Shepard: There was a whole year of that.
Bell: Well, because I grew up very much as a goody-goody, a Goody-Two-Shoes, and I hadn't done anything interesting.
Shepard: I thought you had that Antonio Banderas poster on your wall? That's pretty scandalous.
Bell: Shut up, Dax! [Laughs] During the first year of our relationship, after I already knew him to be my Prince Charming, Dax would casually go into the details of say, a story about what had happened on spring break in high school or college, and I was aghast that who that person was, who made those decisions, was the person I was looking at now. And I think my Catholic-school upbringing immediately informed me to be judgmental, and I wanted to punish him for things he used to do, or the decisions he used to make, which is so far from what is okay to do.
Shepard: I probably should have gone to jail at some points in time, but I didn't, somehow. I've had the necessity for a lot of introspection and self-actualization. I have to stay on top of myself with honesty and be very forthcoming, quickly admit when I'm wrong, you know? I have a whole system that works for me, and that's part of my worldview now. It's how I think of the world and how Kristen and I communicate. We don't let resentments fester. We just get it out and handle it and keep going.
Has this experience of watching Dax put together this film reignited your desire to do the Veronica Mars film, if you can get the rights to it?
Bell: Oh, yeah. I would love to. Everyone involved wants to do it, but Warner Bros. is a real stinker. It's a real monster of a legal system there. But that's why we did this as an independent movie, without a studio telling us what do, which is why there's an eight-minute-long butt-fucking joke in the movie, something absurdly long that continues to deliver. And I would love to, if I had the money right now to produce it, I would do it in a heartbeat. I still have hope for it. I really do. Even if she's, like, 80 when it takes place, like Murder, She Wrote.
The last season of Gossip Girl is almost upon us. Will you actually get to appear on the show, not just as your voice, if they reveal who Gossip Girl was all this time?
Bell: I don't know! Like as the last moment of the show?
Shepard: That's a good idea.
Bell: I would want them to do whatever's best for the show, but I would do it if they asked me. I want to know how they're going to reveal it! Or if they're going to keep it a secret. Maybe that's the infamous gossip-media train, an eternal mystery. Why isn't Veronica Mars on the case?!  [Laughs]