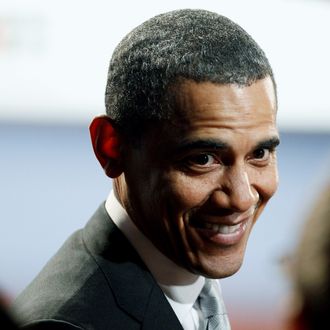 U.S. President Barack Obama greets guests after delivering remarks during a World AIDS Day event at the Jack Morton Auditorium on the campus of George Washington University December 1, 2011 in Washington, DC. Focusing on "the beginning of the end of AIDS," the event was sponsored by HIV/AIDS awareness organizations The ONE Campaign and (RED). Speakers also included former Presidents George W. Bush and Bill Clinton (via satellite link), Sen. Marco Rubio (R-FL), Rep. Barbara Lee (R-CA), Tanzanian President Jakaya Mrisho Kikwete (via satellite from Tanzania), and music artists Bono and Alicia Keys.
Photo: Chip Somodevilla/Getty Images
This weekend's box office was a pretty soft affair, with no new film breaking into the top five: Expendables 2 stayed at first, Bourne Legacy held the second spot, and ParaNorman was up there in third place. But the real news of the weekend was the premiere of 2016 Obama's America, the anti-Obama screed from right-wing commentator Dinesh D'Souza, which at $6.5 million clocks in as the biggest conservative documentary opener of all time.