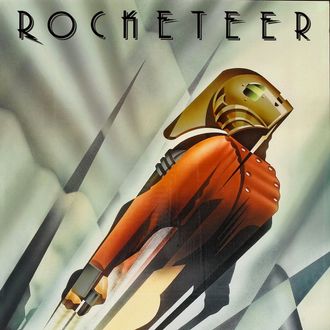 Now that Disney's troubled movie studio is under new management, our spies tells us that, curiously, one of the first properties to be developed for a feature film is a reboot of 1991's thirties-set adventure film, The Rocketeer.
We say 'curiously' because while the property was actually a flop at the time, its similarity to the current Disney-Marvel cash cow Iron Man is more than a little striking: In it, a racing pilot named Cliff Secord (Billy Campbell) discovers a rocket-pack prototype in his stunt plane, hidden there by the gangsters who stole it from Howard Hughes; Secord tries it out, and, like Tony Stark, quickly discovers that a) flying without a plane is SO cool, and b) you gotta fight the bad guys (including Timothy Dalton, who two years prior had starred as James Bond for the second time) and save the girl (a luminous Jennifer Connelly).
While both properties are based on comic books, Iron Man actually arrived on the scene first: The Rocketeer was first published in 1982 by tiny (and now, sadly, defunct) Pacific Comics, and was conceived by artist Dave Stevens as an homage to the serial action heroes of the thirties. By the time Disney released The Rocketeer in 1991, Pacific had already been liquidated for half a decade. Stevens lost a battle with leukemia in March 2008 – just two months before Marvel's adaptation of Iron Man was released.
We're told the studio will soon be meeting with various writers to come up with a take. But its reappearance at Disney now, of course, begs the question: Why? What is new studio chief Alan Horn up to? It could be an early sign that the former Warner Bros. chief doesn't just view his new job at Disney Studios as that of a mere portfolio manager, content to make sure acquisitions like Marvel, The Muppets, and Pixar, which keep churning out their own properties as Disney's brand withers. That would be good news, indeed.
We'll keep you updated as we hear more.