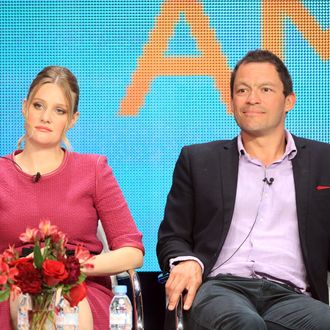 Actress Romola Garai (L) and actor Dominic West speak at the "The Hour" discussion panel during the BBC America portion of the 2012 Summer Television Critics Association tour at the Beverly Hilton Hotel on August 1, 2012 in Los Angeles, California.
Photo: Frederick M. Brown/Getty Images
Dominic West turned down a big role on Game of Thrones, he says, though he can't remember which one. "It was a lovely part, a good part," he tells HuffPo's Mo Ryan. West says he turned down the role because it would have meant holing up in Reykjavík for six months, away from his four children, plus he hadn't watched the show or read the books, so he didn't really know what he was saying no to. "I'm going to regret it," he jokes. Don't worry, Dominic, the Internet will still make plenty of Wire/GoT mash-up stuff.