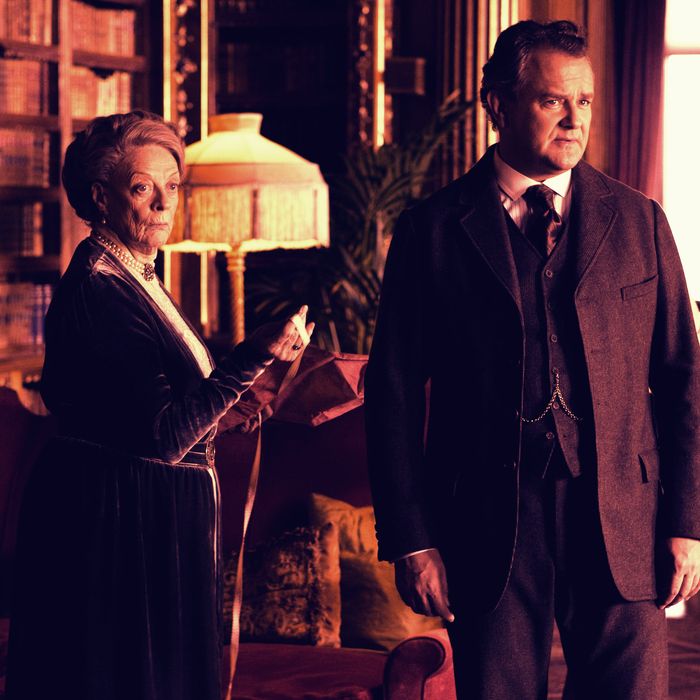 Photo: Giles Keyte/Carnival Film & Television
As the Emmys approach (September 23), Vulture reached out to nominees to pose the question, "What was your favorite episode from the last season of your show?" Mad Men's Jon Hamm, The Big Bang Theory's Jim Parsons, and The Good Wife's Christine Baranski have weighed in. Today we have Downton Abbey's Hugh Bonneville.
The Episode: "Christmas Special"
The war sent his lordship reeling, upending his world of manners and sending him briefly into the quarters of another woman (and we're still not over that). But Hugh Bonneville tells us that his biggest shock came later, when he read the script for the "Christmas Special." To recall: Cora sits her husband down to tell him at long last about the fateful night Mary and Mr. Pamuk knocked boots. She begins, "I've got to tell you something about Mary," and then we cut away from the action. "How could you cut away from Robert finding out?" Bonneville says, laughing. "I remember sitting there, thinking, I want the audience to share in his pain, his anger, his being conflicted — especially after what happened with his own dalliance." (And, yes, he knows all about our feelings on that subject: "Lots of people threw bricks at the TV screen," he says.)
But then series creator Julian Fellowes one-upped him. "This is what Julian is so good at. Whenever you think you know a character, he surprises you. There was that moment when I was on the edge of my seat, thinking, What's Mary going to do? and then Robert takes it on the chin! He says, 'Go off to America. Find a cowboy. Shake us up a bit. But whatever you do, don't marry Richard Carlisle.'" See, Robert can get with the times, at least where Mary is concerned.
Of course, he's far from a modern man, and Bonneville enjoys when Robert's put in his place, especially when it's Elizabeth McGovern's Cora gently nudging him into the twenties. Downton Abbey marks the third occasion the actors have played husband and wife. (They even have a real-life mash-up name: "We're known as The McGonnevilles. We shared a car to the Golden Globes and a security guy confused us. Called us McGonneville. It stuck," he said.) So when Cora sat him down for a second time in the episode, so to speak, to tell him he wasn't going to banish Sybil and her chauffeur, Bonneville quite enjoyed it. "She's the breath of fresh air in that place, isn't she?" he says. "Her great strength is her quiet, calm, considerate but still spunky American way. I love when she tells him, 'Get over it.'"
Less fun was having to squirm on the stand at the trial of poor Mr. Bates, where Robert proves to be the most terrible character witness of all time, recalling word for word the worst thing John could have said. "If only she was the former, or better still the late." (Robert had to quote him verbatim?) "Unfortunately, he doesn't really know the real world. It's funny. I really got sweaty in that scene!" Bonneville says. "I felt bad for him when you see that he realizes people aren't actually going to say, 'Yes, your lordship.' Reality strikes. He lives in an ivory tower. He assumes the world is going to be fair and right to the man who has done no wrong."
"But, you know, we have yet to see whether Robert has been incredibly naïve or right to stick by his man." Wait, is that a Season 3 spoiler?