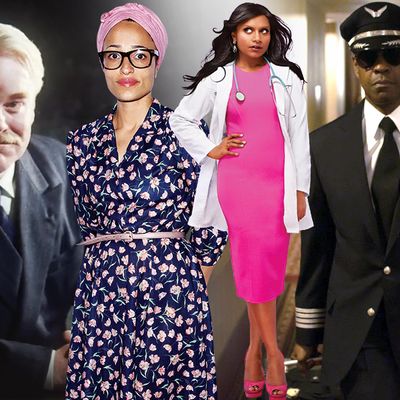 Photo: The Weinstein Company, Patrick McMullan, FOX
For New York Magazine's recent Fall Preview issue, our movie, TV, music, and book critics each picked the five things they were most looking forward to in the next few months. Takes notes, now.
Movies — David Edelstein
1. The Master
Following his indelible portrait of one American monster in There Will Be Blood, Paul Thomas Anderson tackles another — an L. Ron Hubbard figure, played by Phillip Seymour Hoffman. Has there been a better moment in the last half-century to consider such an American, uh, original as Hubbard (or Joseph Smith)? You can look forward to Joaquin Phoenix as Hoffman's increasingly disenchanted No. 2 — but probably not a cameo from Magnolia co-star Tom Cruise. Sept. 14.
2. Cloud Atlas
Those pop visionaries the Wachowski siblings team with Run Lola Run's Tom Tykwer in this adaptation of David Mitchell's kaleidoscopic, … uh [Checking thesaurus] … phantasmagorical novel. With Tom Hanks, Halle Berry, Jim Broadbent, Hugo Weaving, and many more. Not to be confused with the cloud-cuckoo Atlas Shrugged: Part II. Oct. 26.
3. Flight
Robert Zemeckis returns to the land of live-action with the story of a commercial pilot who flies a damaged plane to (more or less) safety — then faces an unexpectedly bumpy going-over. This one must be pretty good, too, since it ends the 50th New York Film Festival. Then again, the stinkeroo Hereafter closed the one before last. Nov. 2.

4. Lincoln
Abraham Lincoln, director Steven Spielberg, screenwriter Tony Kushner, star Daniel Day-Lewis: The pedigree alone can drop you to your knees. The hope is that the movie itself won't be overly reverent. My hopes are higher than the Washington Monument. Nov. 9.
5. Life of Pi
After a shipwreck, a boy and a 450-pound Bengal tiger share a boat in this unique mismatched-buddy picture from Ang Lee, based on the best seller by Yann Martel. ("Do you know the toxin levels of raw fish guts?" "I like 'em. Almost as tasty as — your mama.") It must be pretty good, since it opens the 50th New York Film Festival. Then again, the stinkeroo Carnage opened the last one … Nov. 21.

1. Revolution
J.J. Abrams created this epic sci-fi adventure, set in a postapocalyptic world that soldiers on despite the sudden, mysterious absence of all forms of electrical power, batteries included, and has to deal with widespread squalor and roving bands of warlords, one of whom is played by Breaking Bad's icy-cool Giancarlo Esposito. Sept. 17 at 10 p.m., NBC.
2. The Mindy Project
Mindy Kaling of The Office is the creator-star of this new series about a workaholic doctor who has a chaotic, comic love life. A show like this rises or falls based on the charisma of its lead and the dedication of whoever's driving its vision; luckily, Kaling is aces in both departments. Sept. 25 at 9:30 p.m., Fox.
3. Last Resort
Andre Braugher and Scott Speedman play officers on a nuclear submarine who take the sub awol rather than obey directives to fire nuclear missiles at Pakistan and … hole up on a tropical island. This is a hugely expensive series with an odd premise, and intriguing for precisely those reasons. Sept. 27 at 8 p.m., ABC.
4. Nashville
All About Eve goes country. An established C&W singer (Connie Britton) tries to protect her turf against a rising star (Hayden Panettiere). My most anticipated fall show, hands down, the fact that it's biting a Robert Altman title notwithstanding. Oct. 10 at 10 p.m., ABC.
5. Save Me
Anne Heche plays a woman who has a near-death experience and comes out of it thinking she's a prophet. In other words, a slow, fat pitch over home plate for Heche, whose distinctively weird energy has rarely been well-used. The previews for this show pretty much scream "low-stakes, uncategorizable kook-fest," but I have a soft spot for shows like that, because broadcast networks rarely make them anymore. Date TBA, NBC.
1. The XX, Coexist
The sensuous mood pieces on this English act's debut — songs equally informed by the Cure, bass music, and foggy R&B — deserved the diverse set of fans they attracted, and all signs point to the follow-up preserving that same sense of intimacy. Sept. 11.
2. Kendrick Lamar, Good Kid, M.A.A.D. City
Verbally dexterous and philosophically inclined, Lamar is a rapper on the rise — his major-label debut is even scheduled to contain a Lady Gaga feature. The good news is that making music for a larger audience doesn't seem to be dulling his ear for good production or his tendency to chase big ideas. Oct. 2.
3. Miguel, Kaleidoscope Dream
Miguel started the year with the release of Art Dealer Chic, a series of free EPs on which he flexed creative muscles, toyed with new ideas, bent R&B into a few fresh shapes — and, we hope, convinced his label it was worth letting him do more of the same on his second full-length. Oct. 2.
4. Titus Andronicus, Local Business
Lately there are plenty of New Jersey punks trading in bull-hearted passion and us-against-them fervor — but this band's last LP, The Monitor, did a nice job of asking why we crave those feelings, and what we get out of them. Their new material's been sparking excitement for months now. Oct. 23.
5. Tracey Thorn, Tinsel and Lights
Thorn's still best known as the voice of Everything But the Girl, but the solo albums she's spent the past few years working on have been marvelous, full of spare, quietly incisive songwriting about topics — like being surrounded by divorces — that rarely get such keen treatment. Tinsel and Lights is part Christmas album, part covers album, and bound to be good company when it gets colder. Oct. 30.
1. Zadie Smith, NW
Are there any truly great British novels that aren't about class? Maybe so, but I'm hard-pressed to think of them just now. Either way, Smith's new novel takes up the national theme, following the intertwined lives of four characters who grew up in a council estate (that's public housing, to New Yorkers) in the titular northwest quadrant of London. In White Teeth and On Beauty, Smith used class, race, geography, and gender the way Buckminster Fuller used triangles, borrowing their rigid forms and stress-distributing properties to build beautiful structures. Here's hoping NW achieves the same. Penguin Press, Sept. 4.
2. David Quammen, Spillover: Animal Infections and the Next Human Pandemic
David Quammen might be my favorite living science writer: amiable, erudite, understated, incredibly funny, profoundly humane. The best of his books, The Song of the Dodo, renders the relatively arcane field of island biogeography as gripping as a thriller. That bodes well for his new book, whose subject really is thriller-worthy: how deadly diseases (AIDS, SARS, Ebola) make the leap from animals to humans, and how, where, and when the next pandemic might emerge. W.W. Norton, Oct. 1.
3. Chinua Achebe, There Was a Country
Chinua Achebe is best known as the author of Things Fall Apart, the most influential English-language African novel, but he is also a poet, essayist, short-story writer, and critic. Yet his writings remain largely mute on the Biafran War, the civil war that raged in Nigeria during the prime of his own life. This new book — part history, part memoir, part poetry collection — finally breaks that silence. Penguin Press, Oct. 11.
4. Alice Munro, Dear Life
The only person who could really manage a one-paragraph summary of Alice Munro is Alice Munro, that grand master of distillation whose short stories are restrained, surprising, and alarmingly personal — not to her, to you. The title of this newest collection seems, itself, to distill the feeling you get from reading Munro: that life is, at every moment, terribly costly, and terribly beloved. Knopf, Nov. 13.
5. David Byrne, How Music Works
In his new book, David Byrne — he of Talking Heads fame — focuses primarily on the technological, economic, and physical contexts that shape music, from the ambient noise level at CBGB to the invention of the iPod. By all accounts, Byrne's style and energy are as apparent on the page as on the stage. And if you own an e-reader, you can benefit from both: McSweeney's — always an inventive publisher — is offering a version with music clips. McSweeney's, Sept. 12.
This story appeared in the August 27, 2012 issue of New York Magazine.