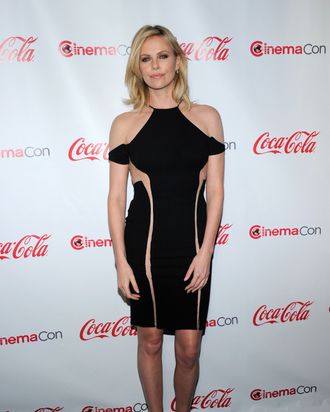 Actress Charlize Theron, recipient of the Distinguished Decade of Achievement in Film Award, arrives at the CinemaCon awards ceremony at the Pure Nightclub at Caesars Palace during CinemaCon, the official convention of the National Association of Theatre Owners, April 26, 2012 in Las Vegas, Nevada.
Photo: Ethan Miller/Getty Images
The synopsis for the new, Tom Hardy–starring remake of Mad Max has been released, and as you might expect from a franchise that once made Tina Turner play a role named Aunty Entity, there are some great, top-notch, utterly weird character names contained therein. Charlize Theron? Her character is named "Imperator Furiosa." Other names include "Nux," "Dag," "Rictus Erectus," "Miss Giddy," "Slit," and "Coma-Doof Warrior" (surely our new favorite). Also, there is this great sentence from the synopsis: "Collectively known as The Wives, Zoe Kravitz plays Toast, Riley Keough is Capable, and Rosie Huntington-Whiteley is Splendid." Splendid, indeed!