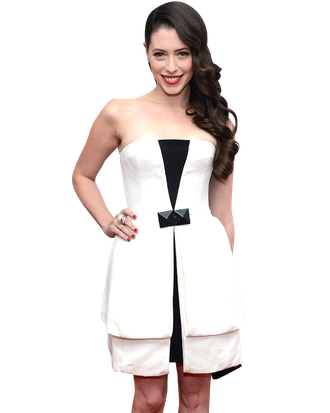 Lauren Miller.
Photo: Jason Kempin/Getty Images
Lauren Anne Miller stars opposite Ari Graynor in the raunchy-but-sweet comedy For a Good Time, Call…, and audiences might well be wondering, Who is she and where have I seen her before? Miller's best-known role up to now has been as Seth Rogen's girlfriend and now wife — she's even appeared in a handful of his movies in small parts. But when her acting career didn't take off like his did, she took matters into her own hands, co-writing a phone-sex comedy with her former roommate (a former phone-sex operator herself), getting her brother to sign up as a producer, convincing her famous husband to make a cameo, and eventually selling the finished film to Focus Features for a little more than $2 million. Vulture chatted with the on-the-cusp writer/actress about kickstarting her career, sex toys, and what would make her kill her husband.
How often do you get to do a threesome with your husband and your co-star?
[Laughs.] Ari likes to joke that she's been our only third, and I like to joke back, "That you know of." I'm kidding! Seth wasn't my husband at the time of the shooting, though; he was my fiancé. We weren't a boring old married couple at that point like we are now.
The film has some great cameos for the other phone-sex callers. How did you line them up?
Kevin [Smith] I know because of Zack and Miri Make a Porno, and he's such a good guy and supports independent film, so I sent him a script and he wrote back, "This is so fricking awesome." He did his scene in the cab in about an hour and a half. Ken [Marino], I saw him do the most incredible Macy Gray at karaoke at a birthday party, and it was one of the funniest things I had seen in my entire life, so I reached out with another letter, "You're so funny. Please do this." I tried to be funny in those letters, but the letter I sent to Ari was more emotional, about how I've admired her work for years, and she has this incredible ability to be over-the-top funny yet retain this vulnerability and sexiness, even if she's pulling gum out of a toilet. She sent me a letter back that made me cry. I couldn't even sit down while reading it, because I was bawling all over the place: "Oh my god, someone believes in me."
You've struggled as an actress. Did you feel like the only way to get the role you wanted to play was to write it yourself?
Honestly, it's why we made this on our own. I'm not even going to say it started with me, but the initial kernel was my acting career or how I didn't have one. I was in a hotel room in Germany, accompanying Seth on one of his press tours, and I had this Lost in Translation moment, wondering about my life. I'd been spinning my wheels, going on like five auditions a year, and nothing was going to happen out of that. If I looked like a supermodel, maybe? We already had this script written, so I wrote [co-writer] Katie [Anne Naylon] a letter, "I'm tired of having no career. If I'm ever going to make it, we need to give this script an opportunity. Let's make it on our own."
Outside of short films, the film work you had done up to this point were cameos in Seth's movies.
Most people assume that's because he was my boyfriend and he was being nice to me, but a lot of it was just luck and coincidence. Superbad was the first one we did together. We had been together for a year and a half, and I knew the whole crew, and I was just there to be on set to be supportive, and on the day, whoever it was who was supposed to do that scene couldn't do it. I was sitting with one of the producers, Shauna Robertson, and I don't think she even knew I was an actor, but she said, "Do you want to do it?" For Zack and Miri, Kevin was like, "Make her do this!" because he thought it would be funny to have in it. 50/50, I had to audition for it.
Apparently you and Seth met the night he and Will Reiser dreamed up 50/50 as a film?
Yes. The way we met, Will used to date a friend of mine, and they arranged a night out for the four of us. I was at her house, and she said, "My friend Seth is coming out. I want you to like him." This was before The 40 Year Old Virgin, and I had no idea who he was. And I was really shy around guys, but he was also awkward and weird around girls.
Elizabeth Banks gave you guys sex toys on the set of Zack and Miri. Do you still have them, and did they make their way into For a Good Time, Call… as props?
That was a clever thing Liz did. We did use one bejeweled dildo that was made by a friend of Katie's that was made for her for the movie. That was a gift we used. I can't even remember any ones that Liz gave us. Seth would remember. I don't remember bringing them home. I wish I had thought of using them or of giving out toys for this film. We could have printed on them, "For a good time, use … "
If you had to struggle to get auditions before, how about now?
Oh, it's quite a lovely night-and-day difference. I'm feeling pretty fortunate. I've been having lots of lovely auditions and meetings, so I'm savoring the moment. I'm in the Ben and Kate pilot airing on Fox in September. I play the love of his life, the one who got away, and he's coming to stop my wedding — but he's a little too late. And Katie and I have a few other features in the works. Most of it is comedy, but I love the dramedy genre a lot, too. I'm writing a personal film separate from Katie.
About your mother [who has early onset Alzheimers]?
Maybe.
Would you ever write with Seth?
We joke about it, but I don't think it will ever happen. We're both too opinionated! We'd probably kill each other. But we are lucky that we both have another writer to show our material to, and say, "Hey, is this funny? Nope? Okay." I'm very lucky to have someone who is so supportive.
What's your common ground as far as pop-culture references are concerned?
I can pull a lot more girlie references than he can — like Friends or Clueless. But we like everything from Jersey Shore to Breaking Bad. We just took our honeymoon in July because we were too busy before, and we were on a beach in Fiji powering through the fourth season of Damages in three days. Chris Messina is so talented, but I didn't want to watch him be tortured!
After your work on this film, do you think you'd make a good phone-sex operator?
I'd make a terrible phone-sex operator. I would giggle the entire time and then hang up. [Laughs.]