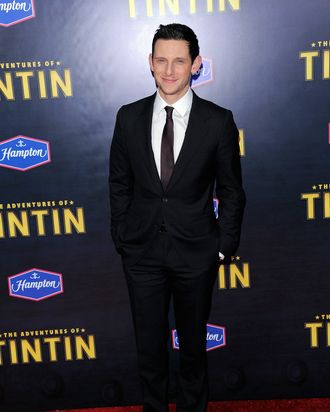 Actor Jamie Bell poses for a photo at the "The Adventures of TinTin" New York premiere at the Ziegfeld Theatre on December 11, 2011 in New York City.
Photo: Jemal Countess/Getty Images
We've already been promised full-on Shia LaBeouf sex in Lars von Trier's Nymphomaniac. Now the intrigue continues: Jamie Bell and Connie Nielsen have also joined the cast, which includes Charlotte Gainsbourg, Stellan Skarsgård, and a host of European actors and actresses. Gainsbourg plays a nymphomaniac who recounts her sexual history to a helpful stranger (Skarsgård), and while it's not clear yet who all the other characters will be, they're probably all just nice normal folks having vanilla, lights-out, church-sanctioned occasional intercourse.