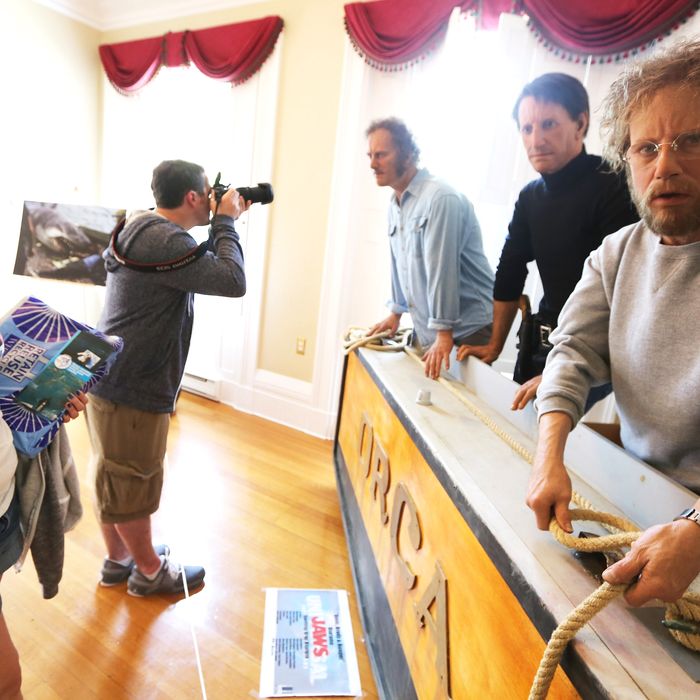 A lifesize display of the Jaws actors at Jawfest.
Photo: Mario Tama/Getty Images
Last Thursday morning, a crowd of hundreds stood outside Martha's Vineyard's Old Whaling Church, to pray to their own personal religion: Jaws. They had assembled at the Amity Island stand-in where Steven Spielberg shot his 1975 blockbuster for a four-day celebration of the film, Jawsfest. One congregant flashed a Jaws tattoo on his stomach, while a woman next to him showed off the one on her back. Many wore T-shirts emblazoned with famous lines like "The Head. The Tail. The Whole Damn Thing," and Toledo, Ohio, graphic designer Mark Schriefer came dressed in costume as Quint, complete with blood dripping from his chin and a shark wrapped around him, mid-bite. Some donned foam shark hats courtesy of co-sponsor Discovery Channel, which was capitalizing on its upcoming annual Shark Week. They flocked into the Edgartown church to see the exhibit "Behind the Screams," where props and memorabilia such as skinny-dipping victim Chrissie's severed arm and a shark cage were on display, as well as a life-size diorama with mannequins of Roy Scheider's Brody, Richard Dreyfuss's Hooper, and Robert Shaw's Quint timelessly staring off in shock from the deck of the Orca. Simply visiting Martha's Vineyard was "like being on the set of Jaws 24 hours a day," said content Buenos Aires filmmaker Marco Debans.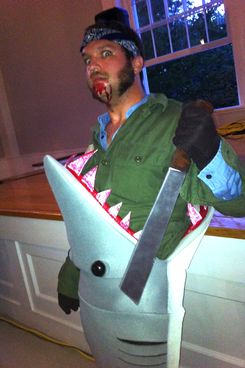 The festival was pegged to Universal's release of the film's remastered Blu-ray edition, and celebrated the movie with in-depth discussions of the mechanical shark ("Bruce"), casting and location, and the impact on local residents; the event also featured appearances by minor cast members and others associated with the film, and ended with screenings of the Blu-ray. There was no detail too trivial for these attendees. "I met people this weekend who should be awarded a Ph.D. in Jaws. I'd argue that the fans know the movie better than those who made it," said Michael Currid, owner of Edgartown Tour Company, which conducts a Jaws tour. Debans not only knew the name of the dog killed by the shark (Pipit), but has visited the dog's private grave. For him, Jawsfest was "like being at a football match where everybody is cheering for their team," noting that he hasn't found such kinship at home.
For the fans who traveled from Argentina, Scotland, Sweden, the U.K., and across the United States, the names Joe Alves (production designer), Peter Benchley (deceased author of the novel Jaws), and Carl Gottlieb (Jaws screenplay co-author) are just as — if not more — important as the movie's lead actors. None of the major surviving cast members attended Jaws, but the attendees went just as crazy for the ones with smaller roles who did show up: Susan Backlinie, who played Victim Number One Chrissie; Lee Fierro, who played Mrs. Kintner, whose son is eaten right off of his yellow raft; and Jeffrey Kramer, who played Deputy Hendricks (and, full disclosure, is this author's uncle).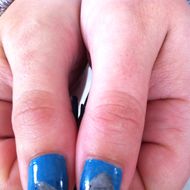 A close camaraderie quickly formed among the gathering of "Finaddicts," as the fans call themselves. They compared tattoos, memorabilia, and arcane knowledge, connecting with those they'd encountered on sites like jawsmovie.com and fan forums on Facebook, and attending panels such as "Special Effects, Then and Now" and "How Jaws Changed Our Lives." (Susan Sigel Goldsmith, owner of MV Promotions, which produced Jawfest, estimates that there were 2,000 attendees over the course of the festival [some events were free and attendance wasn't counted], with 1,500 to 1,800 at the closing screening, fewer than their hoped-for 5,000-person turnout due to poor weather conditions.)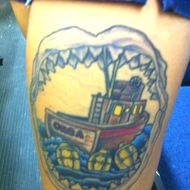 Most surprising was that the majority of hard-core fans at the 'fest were too young — or not born yet — to have seen the film when it was first released in theaters. Instead, they vividly recalled watching it for the first time at ages 5, 6, and 7. Flight attendant Jesse Klein, 22, of St. Augustine, Florida, came to the Vineyard event with her parents, who gave her a VHS copy of the movie for her 8th birthday. They collectively watch the film every year, and her mom designed her Orca thigh tattoo. Matthew Carter and his wife watched Jaws on their first date, and traveled from England to celebrate their honeymoon. "We make our friends watch it," he said of their joint fandom. Carrie McKerracher of Glasgow, Scotland, estimates she's seen Jaws over 400 times; her former favorite place on earth was the Jaws ride at Universal Studios, where her now-husband proposed to her; they went on to have a Jaws-themed wedding. She was in luck when she spotted the film's production designer Alves at the Boston airport and surprised him by singling him out.
The festival culminated with the Saturday and Sunday night indoor and outdoor screenings of the Blu-ray remastered edition, where cameras repeatedly snapped images of the screen. (Pictures of the Blu-ray they would soon own: the ultimate sign of fandom.) The audience collectively called out some of the most famous lines, like "Get out of the water" and "You're gonna need a bigger boat." The Saturday indoor screening was moved into the Old Whaling Church owing to weather, and Greenpoint, Brooklyn, filmmaker Matthew Glasson (there to present "Kevin and Matt Geek Out About Shark Movies," his live show of shark-themed film clips) commented, "It seemed fitting to be watching Jaws in a church because, for many of us film is our religion, and that night the sermon was Jaws." That said, Glasson did admit to being a little overwhelmed by all the minutia being spouted over the course of the weekend. "I loved being in an environment that was open in its devotion to a film that's had an impact on us all personally," he said, "but at the same time, I felt like shouting out, 'It's only a shark movie, fer Chrissakes!' But what a shark movie it is."