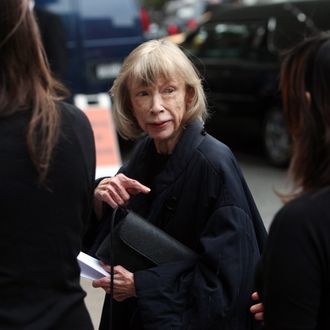 Author Joan Didion attends the funeral of Dominick Dunne at The Church of St. Vincent Ferrer on September 10, 2009 in New York City. Author Dominick Dunne was 83 when he passed away at his home on August 26, 2009.
Photo: Rick Gershon/Getty Images
Author and essayist Joan Didion, who (along with her late husband John Gregory Dunne) penned Panic in Needle Park and A Star Is Born, hasn't written a produced screenplay in nearly 20 years. Now, for the first time since 1996's Up Close and Personal, she has a new movie and a new writing partner: screenwriter and director Todd Field, best known for In the Bedroom. They're set to co-write the political thriller As It Happens. While little is known about the story (or whether Field will direct), it's an exciting collaboration, and, for both Didion and the slow-working Field, an exciting return to form.