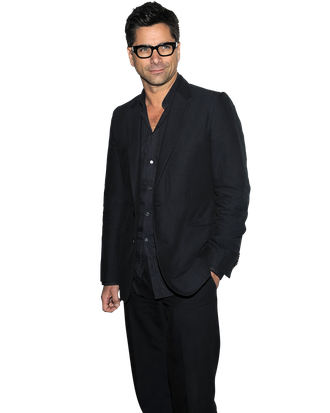 John Stamos.
Photo: Nicholas Hunt/Patrick McMullan
As the Republican National Convention played out last week, the RNC of 1960 came alive every night on Broadway, in the form of Gore Vidal's The Best Man. John Stamos joined the cast this summer (replacing Eric McCormack) as the smug, slick Sarah Palin–meets–Rick Santorum candidate Joe Cantwell, who will say anything and stop at nothing to win his party's nomination, and his portrayal feels particularly timely. The production's coming to a close on September 9, with a fund-raiser performance on September 7 to benefit Stamos's favorite charity, Project Cuddle, which helps abandoned babies — the impetus of his hilarious guide to cuddling video. On his rare day off, Stamos chatted with Vulture about his celebrity backstage guests, Full House reunion plans, and what he'd like to do at the Oscars.
I just saw your show yesterday …
Why didn't you come backstage and say, "Hi!"?

Didn't realize that was an option.
I like to meet people. What was that show where you had the mystery date, and you open the door, and you never know who is going to be there? That's what my dressing room is like after the show. Like this weekend, I barely got a knock on the door and who was there but Bill O'Reilly and Perez Hilton!

Were they at the show together?
That's what I asked them! I was like, "Do you two know each other?" And they didn't, but they were surprisingly cool towards each other. Usually, I'm very specific about not wanting to know who is in the audience, because it freaks me out. It takes so much concentration to be on stage, because I'm no genius, so I just don't look out into the audience, but every now and then, you can't help it, and you see Steven Spielberg in the third row.

Has the show made you more interested in politics?
I have to admit, I was somehow not attracted to politics before, because I felt frustrated. I would say, "I don't get this," or I would find so much on each side that I would agree with. My father used to say, "Don't talk about politics or religion," but I don't want to be perceived as a guy with no opinion, as opposed to someone who says what he feels. My character, he just says what the people want him to say, according to the polls, and that's what scares me about politics today. It feels wishy-washy. So yes, I have become more political. And I certainly did more historical research for this, and I read up on Gore Vidal and some of his works, and it's shown me that nothing has changed. It's all the same stuff. It's dirty, and it's vicious, and sometimes it feels like we're at the Coliseum to fight it all out, especially with the RNC happening. That's what happens in our show. It's really about the morality of that: Do you use the dirt even if it's not true? This happens in the world of politics, but to me, it's a show about human nature and how we treat each other. And it's all about image.  

You have such a great cast: Kristin Davis, Cybill Shepherd, John Larroquette. Are you a fan of Sex and the City, Moonlighting, or Night Court? Or are any of them secret fans of Full House?
You know, Kristin couldn't believe it, but I hadn't watched Sex and the City. No girl ever made me watch it! And the only girl I knew who did watch it was my mother. My mother would call me and ask me, "What's funky spunk?" I would say, "I don't know, Mother." [Laughs] I did ask Cybill about Elvis, because you know she dated him. She had an affair with Elvis. And on one of the first days, I asked her, "How are you and Bruce Willis getting along? Will he be coming to see us?" [Laughs] She said they were fine, but she didn't know if he'd come to the show. And then there's the Star Wars thing.

Because of James Earl Jones.
I was never a Star Wars guy. I'm not a sci-fi guy. But James is really so gracious and one of the most beautiful people on this planet. He's always asking, "Are you bringing any friends tonight?" because he loves meeting people. And he just listens to them. He doesn't talk a lot. He just lets people talk. So one night, I brought Morgan Spurlock back, and he's such a huge fan. He takes his iPhone out of his pocket, sticks it right up to James, and he asks him to say, "Morgan, I am your father," you know, in his Darth Vader voice. And I'm like in slow motion going, "Nooooo!" trying to stop him. [Laughs] I don't want anyone to invade James's space, and everyone stopped. The room got silent. And James said, "Uh, sure." And he does it! We all just died. I was going, "I'm sorry, I'm really sorry," and James said, "Don't apologize. I like that filmmaker. We need filmmakers like him." Apparently, usually when people ask him to do Darth Vader, he asks them to do it instead.

Do you have people coming up to you to ask you to say your famous line?
Yes! I'm not comparing this to James Earl Jones in any way, but people ask me to say, "Have mercy!" all the time. Garry Marshall was the one who told me I need to have a catch phrase, back when I was doing You Again? and it became "Have mercy."

There's been some talk over the years of doing a Full House reunion, and then of a Full House remake, à la The Brady Bunch, where you'd cast other actors in the parts.
I was flattering myself to think that James Franco might play me, and Steve Carell could do the Bob Saget role. The reunion had some movement, and then it was on hold. But I think if we're going to do anything, we should do it while we're all still looking okay. We should get together and do reunion for TV Land or something.  I don't know. It's 25 years this September since it first started airing, and no matter what I do, that's how people think of me. I've tried in the past to forget it and not be associated with it, but I've since learned to embrace it.   

You're friends with Craig Zadan and Neil Meron, who are now going to produce the Oscars. Any chance of doing a number there? You sang with Lonely Island at the Emmys.
Neil and Craig are dear friends, and I would be happy to work with them. I suggested we do a whole Rob Lowe as Prince Charming thing for the Academy Awards, where instead of Rob, it's me. So far, they haven't returned my calls about the idea. [Laughs] I'm trying desperately to get on the show, but if I'm doing anything, it'll probably be as a seat filler. We'll see!