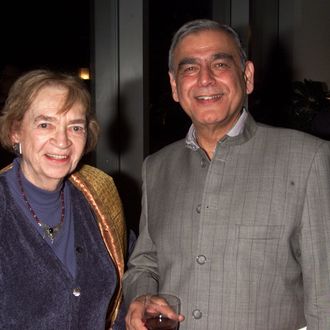 Film critic Judith Crist at the Festival of India Diaspora in New York City on November 1, 2001.
Photo: Gabe Palacio/Getty Images
She collected firsts, so many did she have. Judith Crist, who died Tuesday at the age of 90, was the founding film critic at New York Magazine, the Today show's first movie critic (1964–73), and, from 1945–65, the first female full-time film critic at a major American newspaper (the New York Herald Tribune). It was her years at TV Guide, though, where she wrote for more than two decades, that introduced her to one of the widest possible audiences a critic could have. Crist also served as a teacher at the Columbia University Journalism School from 1958 until this past spring.
New York Magazine's current film critic, David Edelstein, sent along the following thoughts about Crist:
"Judith Crist helped set the stage for New York Magazine as a place for popular and yet essentially serious and wide-ranging film criticism. She was tart, sensible, and irresistibly readable, and she cut a colorful figure on the festival circuit, building bridges between filmmakers and audiences in her famous weekend seminars. (Woody Allen rather sourly lampoons her in Stardust Memories.) Ms. Crist didn't have much use for disreputable genre pictures but opened her mind (and her columns) to the more adventurous directors of the American New Wave of the late sixties and seventies. She went from New York to TV Guide, where she wrote pithy and trenchant reviews of the week's movies at a time before cable and home video, when that's all there was. We argued with her vigorously but read her avidly. She was a force. I won't say she will be missed because for the last two decades she has been. It is an honor to hold her position."