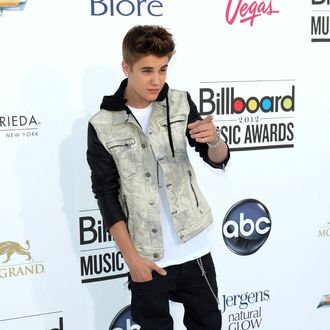 This week, The New Yorker's Lizzie Widdicombe goes long on Scooter Braun, better known as "the man who discovered Justin Bieber" or "the man who inspired this T-shirt." Braun manages Bieber, Carly Rae Jepsen, and British boy band the Wanted, and much of the profile is dedicated to the business practices and philosophy of the world's newest Teen Pop mogul. (That "Call Me Maybe" lip-dub was his idea, by the way.) There are also Bieber anecdotes. And one of them involves ball-tag. From a set visit to The Voice, where both Bieber and the Wanted were scheduled to perform:
Bored, Bieber started a game, playfully jabbing everyone in the crotch with his fist. First, he jabbed at Braun, who, without looking up from the script, dropped his hands to block. Daly did the same. When Bieber jabbed at Siva Kaneswaran, a member of the Wanted, he connected. He called out, "Got you, bro." Kaneswaran balled his fist but seemed unsure how to respond. "I don't want to hurt his pretty face," he said.
Braun said, "Just get him in the pretty balls. It's fair game."
"No, it's not," Bieber said.
Braun took a firm tone. "Justin, it is — fair game," he said. "You hit him in the balls, fair game."
Bieber was peeved. "Where're we going?" he asked. "Where's my dressing room?"
Later on, Bieber is forced to give an interview about Braun and spends half the session making "irritating buzzing noises" on his guitar. Then he's late to the Tonight Show, and Braun has to yell at him like a small child. This is what music industry domination looks like in 2012.