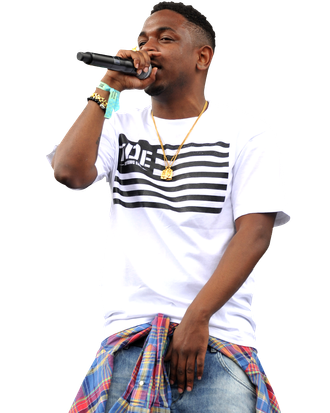 Kendrick Lamar.
Photo: Kevin Winter/Getty Images
On October 2, Kendrick Lamar will release his major-label debut, Good Kid, Mad City, via Dr. Dre's Aftermath imprint. But don't take that to mean Lamar, a 25-year-old fiercely lyrical Compton MC, was discovered by Dre. Alongside his crew Black Hippy, Kendrick has hustled for years, releasing a string of exceedingly acclaimed mixtapes and albums on L.A. indie Top Dawg before getting called up to the majors. While still in the studio, between fifteen-hour, all-night mixing sessions and family hang time, Lamar spoke to us about Fruity Pebbles, Tupac Hologram, and changing his stage name.
Do you have any studio rituals?
One of the main things I gotta have is a whole bunch of fruit snacks and Fruity Pebbles and Gushers and little stupid shit like that. That and Google. Sometimes my mind be working a million minutes at one time, and I could be writing, and I could be looking at something that I wanna know about, all in one motion. People think I'm crazy when they're watching me.
What kind of stuff have you been reading up on recently?
I probably get in trouble talking about it. Some real real crazy worldy type things.
Did you ever worry all your efforts at a music career wouldn't pan out?
When you ain't making no money from it, that'll discourage you quick. You see your homeboys getting money and doing whatever they gotta do to get it, it's easy to go negative. But through the grace of God, I stuck through it, and eventually my time came. I thought, I gotta get a [big] record, but time is everything. That's something I didn't know then.
You used to go by K. Dot but dropped the stage name. Why?
I learned, when I look in the mirror and tell my story, that I should be myself and not peep whatever everybody is doing. K. Dot will always be my name in the neighborhood — that's what they called me when I was a little baby running around with a basketball. But as a stage name, it didn't work. It didn't work because that was me emulating what I seen on TV. If I'm gonna tell a real story, I'm gonna start with my name.
One of my favorite songs of yours is an older mixtape track, "The Heart Pt. 2." Your voice is cracking, you're near tears …
That was tapping into the emotion of the time. It was a real depressed stage in my life. You feel you got nobody. All you have is your mouthpiece to express yourself. And you hear that same tone on this album. We tapping back into it, where I was eight, nine years ago — a teenager.
How'd you and Black Hippy work your way up to Dre and Aftermath?
Just with great music and word of mouth. We didn't have no money to really push a project or nothing like that. One dude behind a computer, two other dudes behind management, and three other artists just making the music — that's all we had. And that mentality will continue to spread. I'm sticking to the script, I'm putting that organic feeling back in the game. As long as my music is real, it's no limit to how many ears I can grab. It's something [Black Hippy's] Ab-Soul told me five years ago: You can make a simple song in your little bathroom, and if it's that good, it's gonna get you touring all over America.
You played Coachella with Dre when he brought out Tupac Hologram. Is there any way you could top that?
I don't think I can even try to top that. I don't think nobody should, either. Anything topping that would be the Rapture. That'd be God coming back. I'll leave Tupac Hologram where it at, right on that stage.