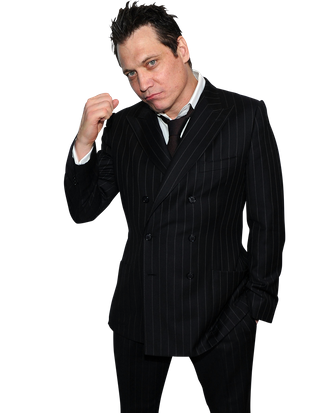 Holt McCallany.
Photo: Frazer Harrison/Getty Images
A year ago, Holt McCallany had his first starring role (and rave reviews) in Lights Out. But low ratings KO'd the show after one season, and McCallany admittedly found himself taking big parts in low-budget B-movies and small parts in big movies. Now it's back to TV for the affable actor, who is next going to star as a homicide detective in CBS's midseason cop drama Golden Boy, co-created by Greg Berlanti and, at one point, set to star Ryan Phillippe. McCallany recently sat down with us at Jimmy's Corner, a boxing-themed bar in midtown, and, over a few scotches, talked about the cancellation of Lights Out, the role he almost landed on ABC's Beauty and the Beast, and the absurdity of pilot season.
FX gave Lights Out a big press push, the press gave you rapturous reviews. Did you think your life would be transformed, that you were going from being an actor to a star?
I had waited a long time — both my parents were in show business and I had never considered being anything other than actor. This was a very heady moment. So yes, sadly, I did allow myself to be a little deluded.

When did you know the ratings weren't good enough?
We debuted to a smaller number than the network wanted, so right away we were playing catch-up. It was a tough time slot. I'm losing to things like Teen Mom, Cupcake Wars, and Pawn Stars. I didn't know these shows existed until I was getting beaten by them. FX wanted us to succeed. As long as we were moving in the right direction, we had a chance. But around week nine or ten we took a dip and I thought we were like Billy Conn when he had a shot at beating Joe Louis then got clipped — we zigged when we needed to zag. That was the final blow.

How did you handle the cancellation?
It was tremendously disappointing. I had kind of a dark period. I felt like a fighter who gets his shot at the title and gets knocked out. And part of me felt I had let everybody involved in the show down.

One of your efforts at bouncing back was a writing project. What happened?
I love writing. I'm still learning — I'm a devotee of Robert McKee and his seminars. I had this story of Doreen Giuliano; after her son, John Giuca, was wrongfully convicted of murder in Brooklyn, she went undercover, befriending one of the jurors to get him to admit he shouldn't have been on the jury. It's an amazing story. Lifetime wanted it. But they kept asking for rewrites and more rewrites. They wanted too many changes. So we're going to try and make it as an independent film.
You have a role in Gangster Squad and mentioned before we sat down that this was the most satisfying project you've done. What was it that you enjoyed so much about it?
Sean [Penn] is an amazing actor. He's so intelligent and open. In our first rehearsal, he said, "Do you sing?" I said, "Yes, my mother [Julie Wilson] was a nightclub singer at the kind of clubs we're shooting in." So he said maybe I could sing when we're driving around. And I said maybe I could sing when I kill people. The director liked the idea, so I called my mother in New York and asked for song recommendations. It was a great role and it was one of those interesting choices that will make the character really memorable.

You recently flung yourself into pilot season out in Los Angeles again in May. What was that like?
I was really hoping to follow Lights Out with another character similarly intriguing and fresh. But not all television scripts are created equal. And the process is ridiculous. They send you a script and want you in the next morning. That's not how acting works. You can do anything to me as an actor; I'm a very resilient guy. Just don't rush me. If you ask me to do it immediately with no time to prepare, I know you have contempt for actors. Why not just tell me that you hate me?

One project you were intrigued by was ABC's Beauty and Beast. What happened there?
At first I thought, This idea sounds so tired, just shoot me. And I didn't want to be in the makeup chair for three hours every morning. But I reread the script and saw how inventive it was — it was archetypal and mythological, like Lord of the Rings or Star Wars. I even came around about being underneath the mask; I studied commedia d'ell arte in France in the eighties and when do you ever get to use that, so I thought learning how to act behind the mask would be an interesting assignment. It could be freeing. The writer wanted me. The producer wanted me. Of course, the moment I decided I wanted to do it, the network decided I was too old to be the love interest of a 25-year-old, and cast a guy 25 years younger than me … even though you can only see the actor's eyes. Welcome to television.

But then you landed a part in CBS's Golden Boy. How is it going?
It's a little bit of an adjustment being in an ensemble after having the lead. I liked that when it was rolling, it was on me. And this isn't the last role I'll ever play. It's a very well-written cop drama. My character is different for me. I've played a lot of brooding, internal guys. Here I'm a wise-cracking New York detective, a hustler who scalps theater tickets and is obsessed with celebrity culture. It's a real New York guy, with elements of Ratso Rizzo. I'm like the comic relief. I love it. And when the writers see what I can bring, they're only going to be inspired to write more and more.

Would you be more skeptical about success this time around?
I've always believed my success in the entertainment business is an inevitability. You have to believe that, you have to be an optimist. You've got to wake up every morning and believe, I was born to do this.