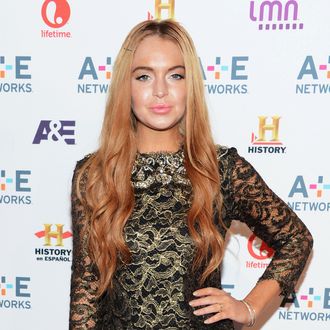 Lindsay Lohan attends A&E Networks 2012 Upfront at Lincoln Center on May 9, 2012 in New York City.
Photo: Jason Kempin/Getty Images
Well, here we are again: Lindsay Lohan, who wound up in jail last year after some confusion surrounding a "missing" $2,500 necklace, is once again in the middle of a stolen jewelry situation. The details, as reported by TMZ, are as follows: Lindsay was partying at the home of Sam Magid last Sunday/Monday (it was an all-nighter, to put it mildly) when $100,000's worth of watches and sunglasses went missing. Originally, Lindsay was not a suspect — she was just responsible for "bringing the thieves into the home" — but the cops saw through that one and are now investigating her as a culprit.
According to Magid, Lindsay admitted that she'd hidden various belongings about his home, for fear of burglars, and that she was on Ambien at the time of the incident. (Her not exactly innocent text to Magid: "I'm sorry. Please pray for me.") Lindsay's two party guests told Magid that she "handed them a bag with 2 or 3 pieces of the stolen items wrapped in her t-shirt," but the items were returned. Lindsay, meanwhile, is blaming the theft on Andrew Knight, son of Suge Knight, because this story is not strange enough already. All together now: Lindsay, whyyy?
Update: And now TMZ says that Magid tried to take the story back, and is also possibly obsessed with Lindsay? Is he trying to leverage jail time to get with her? Has anyone spoken to Suge Knight yet? Why is everything so weird?
Update No. 2: The L.A. County district attorney will not be prosecuting the case (probably because its witness just retracted his statement).  Lindsay is in the clear.  And she's Tweeting about it.