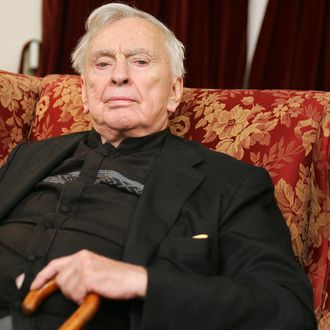 Gore Vidal.
Photo: Robyn Beck/AFP/Getty Images
It's Sunday afternoon, or: your last chance to read all that stuff you meant to read last week before Monday brings a new deluge of things you will want to read. Below, some of our recommendations:
"Gore Vidal's reading list for America," by Michael Winship (Salon): The late critic and author's suggests some books intended to help America through the Reagan presidency.
"Q&A: Busy Chris Rock Is Just Itching to Do Dirty Work," by Dave Itzkoff (New York Times): The actor and comedian talks about wanting to get back onstage (for stand-up and Broadway), the new W. Kamau Bell show he's producing, and why only fans should be allowed to criticize.
"Grey Area: How 'Fifty Shades' Dominated the Market," by Emily Eakin (NYR Blog): A look at the vast fan fiction universe that birthed the Fifty Shades juggernaut.
"Twilight of the Dinosaurs," by Steven Hyden (Grantland): Some thoughts on the continued existence of Black Sabbath (and their classic rock kinsman), who will likely stay with us even beyond their "socks and sandals years."
"Meeting Elvis," by Craig Brown (Salon): In this excerpt from an upcoming book on famous encounters, the King complains to Nixon about the druggies, and the hippies, and the Beatles … before actually meeting the Beatles, who giggle like giddy schoolgirls around him.
For more in-depth weekend readings, visit our friends at Longreads.