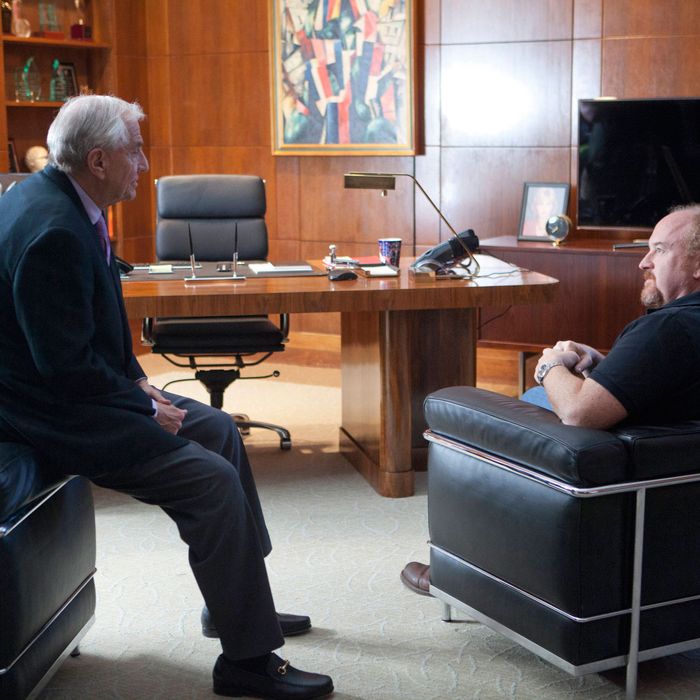 Strap in, folks. We're heading into Louie's first-ever three-part episode and then an hour-long season closer. This is the show's final run at making a big mark in 2012 — the kind of impression that could help re-up all those Best Comedy of the Year accolades and Most Original Thing on TV superlatives. This last leg began solidly with the type of installment typically reserved for those series that embrace things like continuity and extended plots: the setup episode.
Let's go straight to the big hypothetical that'll power this arc: Guest star Garry Marshall — the 77-year-old Hollywood fixture and cameo artist who, before flopping out Valentine's Day and New Year's Eve, directed Pretty Woman and created Happy Days and The Odd Couple — is a CBS bigwig who wants Louie to try out for David Letterman's Late Show job. (Marshall plays Lars Tardigan, a name certainly conceivable only by C.K., the guy who invented a child called Jizanthapus for his act.) "You're circling failure in a rapidly decaying orbit," Tardigan warns Louie.
The setup to the setup is a sorely missed extended stand-up session. C.K. lingers on the bewildering aspects of American privilege — having the luxury to decide when we inform our growing children about the quaint, faraway notion of war, while kids in Afghanistan learn by asking "How come Uncle Henry's head is gone now?" — and the burden that comes with all that power: being professional consumers, masters of efficiently dispensing with our war-blind dollars. Which means reading "a really long review by an insane person" on Amazon who, just 'cause a bonkers left turn is always fair game in C.K.'s act, has "been dead for months, because he shot his wife and then himself after explaining to you that the remote is counterintuitive."

That bit holds an ancestral resemblance to the modern American commentary that was "Everything Is Amazing and Nobody's Happy," one of a small handful of C.K. riffs you're possibly likely to know by name. The clip of C.K.'s early 2009 appearance on Late Night With Conan O'Brien is pushing 7 million views today and still holds a half-dozen prescient, eternally hilarious lines applicable to a slew of situations. The clip's virality rose to a degree that at least one church deployed it as on-message material. (Guess they weren't interested in "The Saddest Handjob in America," but that's a talk for another time.)

The murder-suicide Amazon reviewer bit is presumably what Louie ends up performing on The Tonight Show With Jay Leno in this episode, although Leno's hurried green-room pep-talk seems like an alternate telling of how "Everything's Amazing" could've come about — "Ya ever flown on an airplane? Ya got airplane stories? Alright, tell an airplane story. Ya alright? Ya good? Alright, good." Seeing Leno in a filmlike scenario, away from his Tonight Show desk-habitat, is weird enough; seeing him rev up Louis C.K. is a whole other level of strange.

Every time a trained Louie viewer expects this episode to zig, it zags. There's no comic letdown before the lustrous Late Show pitch concludes. There's no colossal flub when Louie is suddenly upgraded into the place of the galactically more famous Tom Cruise on The Tonight Show. There isn't even a shred of self-drubbing in the unspoken acknowledgment of the chasm between Cruise's star and C.K.'s.

Until the blunt Lars Tardigan informs Louie he's worth one-twelfth of a Jerry Seinfeld. (Imagine what percentage of a Tom Cruise he is — Jesus.) The dude already has next to no self-worth, and now you point out his actual worth in such cold terms? Of course he's going to sit in that chair and legitimately consider hosting a high-profile talk show, a job he'd be terrible at (recall how fatally he failed at normal human conversation with his girlfriend in this season's premiere, or any number of interpersonal blunderings since), a position he'd be annoyed by (he can barely handle the idea of being bumped from The Tonight Show, a standard showbiz procedure), and a lifestyle he's not prepared for or interested in (half his week is devoted to fulltime fatherdom).

But despite all that, Tardigan's words are hotwired to Louie's fear and pessimism: "I think, five years ago, you probably peaked, and now you're waiting around, wondering if something's going to happen before it gets embarrassing. Am I right?" The real C.K. has alluded to what he perceives as the impermanence of his success, matter-of-factly telling New York in 2011 that "all this won't last."

Last week, Louie's brief companion, Chloë Sevigny's Jeanie, admonished him: "You can't just drift through life and hope that love is just gonna flow into you like plankton into a whale's fucking mouth. You have to prove yourself. You have to make things happen and choose." Sub in success for love — or are they the same for a comic? — and you can imagine those words ringing through Louie's head as he seriously mulls this notion of spearheading Late Show With Louie C.K.

Stray Observations

• Probably the show's shortest episode, but totally packed with comedy minutiae and Louie hallmarks: Carlos Mencia and Bill Burr both on the Improv's marquee; a joke about Afghanistan, where C.K. has performed and portrayed last season; the "community college" jab possibly referencing Community; a Larry Sanders vibe for the backstage Tonight Show scenes; spending more time than ever with Louie's prepubescent-seeming manager, Doug (Edward Gelbinovich), and still learning absolutely nothing about him; the fake posters in the CBS office — The Big House, Lethal Renegade. Just little winks, all great.

• Can we all start inserting "Who are you, the King of Siam?" into everyday conversation?

• The Tonight Show crew frantically trying to force a suit coat on Louie, then yelling "Don't swear!" as he took the stage.

• Louie doesn't burst into flames when the sun hits his pasty, freckle-bombed body; he just says "ow … shit … bitch." And it's not hard to believe that, when roused from slumber unexpectedly in his actual life, C.K. grumbles things like "shit on a dick."

• Speaking with Grantland's Bill Simmons about Louie's success, the impending third season, and how some Tom Cruise-size stars had occasionally voiced an unsolicited willingness to appear on the show, C.K. said: "I got no use for Tom Cruise. That would be hard to think of something for him to do that would be good for my show." How about having him offscreen, turning down a free motorcycle, the very manhood-enabler C.K. has trotted out a handful of times this season?

• Tardigan offhandedly mentions the thin possibility of Louie maybe lucking into more cable stand-up specials. A nod to C.K. eventually pioneering the $5 downloadable stand-up special?

• Excellent and unusual music all around this week. Hollywood Reporter has a cool article with Matt Kilmer about composing the scores with C.K.

• Jonah Weiner at Slate didn't exactly insinuate this, but his line of thinking got me wondering for a moment if this Late Show fantasy could all be a dream Louie is having back in the hotel.

• I was fortunate enough to see C.K. at the Bell House in Brooklyn this week along with a thousand other people over the course of three warm-up shows for his upcoming tour. There was startlingly nonexistent overlap with Louie's plots and stand-up clips we've seen this season. A great reminder that C.K. is perpetually working and evolving.