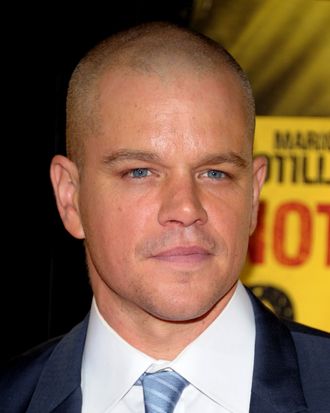 Actor Matt Damon attends the "Contagion" premiere at the Rose Theater, Jazz at Lincoln Center on September 7, 2011 in New York City.
Photo: Michael Loccisano/Getty Images
Sound the alarm: Like Taylor Swift at a Kennedy wedding, we have our first Oscar-season party crasher! Focus just dated Gus Van Sant's Promised Land, starring Matt Damon and John Krasinski in a movie they wrote themselves, for December 28. Sneaky! Damon stars as a salesman who comes to a small town to pitch them on fracking, but Krasinski and his fellow citizens are not impressed. What if Damon could promise you some Oscar nominations, J-Kras? What then?