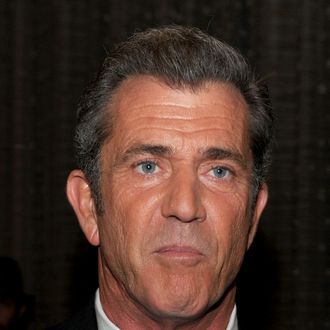 Mel Gibson.
Photo: Alberto E. Rodriguez/2011 Getty Images
Mel Gibson is back with his new film Get the Gringo, but unlike the action films that made Gibson famous, Gringo was unable to secure a theatrical release and will instead be going straight to on-demand. It's fair to blame Gibson's offscreen tabloid troubles — the arrest, the ugly battle with his ex, and the recent blow-up at screenwriter Joe Eszterhas — for Gringo's second-tier premiere, but at this point, would any sort of apology from the star be able to repair the significantly damaged relationship between Gibson and his audience? That may be a moot point, because as Gibson says in a new interview, he doesn't feel like he has anything to apologize for.
In a chat with Coming Soon to promote Gringo, Gibson seemed stymied by the idea that people expect him to seek forgiveness:
Q: Is Hollywood ultimately a forgiving town?
Mel Gibson: No, it's not. They have to forget. I don't even think they're vindictive. I don't think they think there's reason to forgive. And forgive what, to begin with? What are they asking for? It's almost like, can you please forgive me for what? What did I do, really? It is kind of ridiculous. So it's kind of hard to pinpoint exactly what needs to be forgiven and I don't consider that anything does [need to be forgiven] because I didn't hurt anyone.
Then again, bad behavior may be its own reward: Gibson has been filming a part as the villain in Robert Rodriguez's Machete Kills, which will be the star's second wide-release film in the last decade. He stars alongside Danny Trejo, Lady Gaga … and another bad-boy actor who has bounced back from notoriety and allegations of violence, Charlie Sheen.