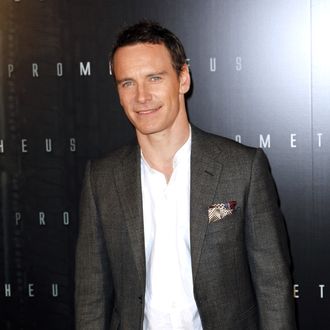 Photo: THOMAS SAMSON/AFP/GettyImages
It may be that Jane Got a Gun, but it's looking more and more like Michael Fassbender will be its triggerman: Our spies tell us that Fassbender is negotiating to star in the Western that's already attracted Natalie Portman and We Need to Talk About Kevin director Lynne Ramsay.
In Jane, Portman, who is also producing, would play a woman married to an outlaw who returns home bullet-riddled and half-dead, betrayed by criminal confederates hot on his heels. Fassbender would play the ex-lover Portman seeks out to help her defend her farm from the imminent onslaught of black hats.
The project is being made independently, with the budget well under $20 million. That's cheap enough to be financed entirely through Portman's handsomecharlie films, which has backing from 1821, the financing outfit run by Greek shipping heir (is there any other kind?) Paris Latsis and Terry Dougas.
And yes, while Latsis and Dougas have the dubious distinction of having executive produced the Cameron Diaz horror film The Box – one of the few films ever to receive an outright F CinemaScore — Jane Got a Gun is actually a cracklingly paced script by Brian Duffield that made Hollywood's annual "black list" last year.
It will be interesting to see if a deal can be sealed with Fassbender, who's currently in the midst of shooting The Counselor with his old Prometheus director Ridley Scott. If the talks continue to go as well as they have, we hear the plan is to put Jane before cameras by early next year.
UPDATE: We are told that financing entity 1821, while still producing Jane Got a Gun, will not be financing it. Instead, Jane will be wholly financed by producer Scott Steindorff's Scott Pictures.