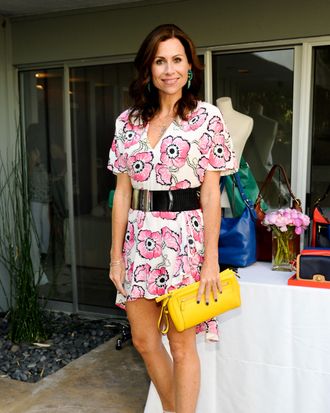 Minnie Driver attends A Dannijo And Tucker Tea on July 26, 2012 in Beverly Hills, California.
Photo: Stefanie Keenan/WireImage
Minnie Driver has joined the cast of Stage Fright, which is apparently "Scream meets Glee," at least according to Deadline. Ye gods. Fright — which includes original songs — is set at a froufy theater camp where a serial killer who hates musicals is on the loose. Driver will play two campers' mother, herself a Broadway star, and Meat Loaf will play the camp director. Meat Loaf, Minnie Driver, a movie that could be called Stage Door Murder — sometimes the world is so strange it's hard to know what's real.