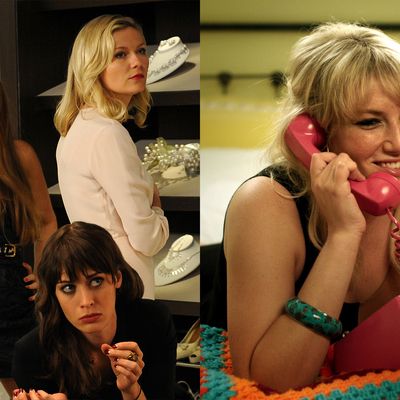 Photo: BCDF Pictures, Focus Features
The best reason to see Bachelorette and For a Good Time, Call… is to watch girls talk dirty — after which you can muse on (and debate among yourselves) whether the female writers have fashioned their heroines to fit lewd male fantasies or triumphantly wrested the image of Bad Girls from males and their infamous gaze. I can go either way, which I hope suggests virile open-mindedness rather than wussy indecision. Uneven as these movies are, there's a lot going on in them. They're ballsy.
Leslye Headland's Bachelorette was a play before a movie and well under way when Kristen Wiig cleared the way for feminine raunch in Bridesmaids. Headland's film is even raunchier — and braver, the farcical plot rooted in female competition, self-hatred, and the characters' feeling that their bodies aren't entirely under their control.

Three thirtyish unmarried high-school pals — Regan (Kirsten Dunst), Gena (Lizzy Caplan), and Katie (Isla Fisher) — are thunderstruck to learn that the first of their clique to get married will be Becky (Rebel Wilson), once unaffectionately known as "Pigface." Supercompetent Regan is in charge of organizing the wedding, but with Gena and Katie snorting cocaine and throwing back drinks, the trio's unconscious rage takes over like the invisible Krell id monster in Forbidden Planet. Becky is driven in tears from her bachelorette party when the male stripper is directed to call her "Pigface." Then, two of the women snap a photo of themselves in Becky's humongous tent of a wedding gown — which, of course, rips down the side.

No, these are not "nice" girls, but the hell night that follows puts them in their place. Their frantic quest to get the increasingly mangled gown repaired and cleaned takes them to a bridal shop, where they're cruelly reminded of their own romantic dreams, and to a strip club, where three men from their past — played by Adam Scott, James Marsden, and Kyle Bornheimer — undress them in various ways. Because Bachelorette is a comedy, Headland eases up on the unpleasantness and pairs the women off in a manner that isn't especially convincing. But it is a relief. The writer-director has given us a long, hard look at the abyss — at a history that includes bulimia, accidental pregnancy (coupled with male abandonment), and drug abuse. Dunst gets all flushed as she contemplates her sacrifices to make herself attractive to men. Lizzy Caplan, with her drawn face and bat-signal eyes, is an alluring jumble of defenses, ever calculating, the chip on her shoulder beginning to metastasize. Bachelorette has some big gaps (the relationship between Becky and her intended is a mystery), and it isn't what you'd call fun — it's not Bridesmaids 2. But lovely women doing genuinely ugly things makes for a potent combination.

The ugliness is transformed into quirkiness in the campy female-odd-couple comedy For a Good Time, Call…, directed by Jamie Travis (a man) from a script by co-star Lauren Miller and Katie Anne Naylon. Demure Laura Ashley–type Lauren (Miller) is forced to move in with a tacky whirlwind named Katie (Ari Graynor), who can no longer afford her late grandmother's spacious Gramercy Park apartment by herself. They've loathed each other since the time a drunken Katie splashed a cup of pee all over Lauren and her car, but business brings them together. Katie earns most of her living on a phone-sex line, and Lauren finds a way to maximize profits. Soon, this prim innocent is not just fielding calls but pitching in. ("Whatever they say, I just tell them I wanna lick it," advises Katie.) Gradually, the two fall for each other.

No, not that way — but that's what you thought, right? A female colleague recently pointed out that sexual attraction between women friends is very common but in movies tends to confuse people. The confusion in For a Good Time, Call… is delightful, the phone-sex talk sweetening the vibe. Justin Long is peerlessly funny as the girls' gay pal, but the movie belongs to Graynor, who's like Sandra Bullock with a touch of Ginger Rogers–y brass. My favorite moment: In the shower, Katie sees a bar of soap with Lauren's hair (pubic?) on it and breaks out into a warm smile. If that's not love, what is?