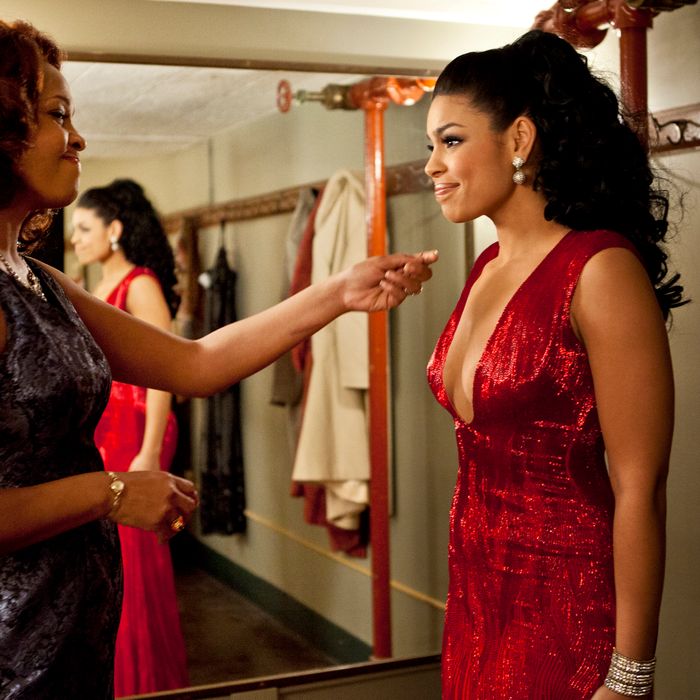 Photo: Alicia Gbur/Stage 6 Films, Inc.
First, the good news: The musical numbers in Sparkle are great. The songs (a mixture of pieces from the original 1976 movie, written by Curtis Mayfield, and newer ones, written by R. Kelly) are beautiful, the performances full of life. Director Salim Akil shoots his actors with finesse as they sing, almost caressing them with the camera, while also showing us the audience and the sense of community engendered by the music. These numbers, frankly, display a professionalism and confidence that most of the rest of the movie can't match. And yes, that's the bad news.
Sparkle starts off as your typical musician's-rise-to-greatness picture before taking a left turn into tacky melodrama and finally giving up altogether. The story's about a trio of supremely talented sisters in late sixties Detroit — Sister (Carmen Ejogo, lovely and energetic) is the sexy one who sings lead, Sparkle (Jordin Sparks, who sadly has no charisma away from the microphone) is the shy one who writes, and Dolores (Tika Sumpter, who threatens to steal the movie right out from under everybody) is the tough one who just wants to go to med school — and their God-fearing mother, Emma (Whitney Houston), who herself briefly tried to become a singer but was almost destroyed by the music biz. Mom doesn't allow for much besides Bible study, so the girls wait until she falls asleep before they sneak out to perform.
Sister and Her Sisters (that's the girl band's name) are touted by energetic young wannabe-manager Stix (Derek Luke), who falls for Sparkle and hustles pool at nights to buy their new wardrobes, and his cousin Levi (Omari Hardwick), who's in love with Sister. For her part, Sister lets Levi take her out but clearly wants a man with more money. Said man arrives in the form of local personality Satin Struthers (Mike Epps), a comic sidekick on a TV show. When Sister abandons Levi to be with Satin, you figure the movie's not done with Levi yet; but he shows up so cursorily later on you wonder if maybe entire plot threads have been left on the cutting-room floor.
Similarly, the opening sets up the drama of Sparkle's lack of confidence and her reliance on Sister's swagger to sing her songs; we know this will eventually be resolved, but the film doesn't really do anything with it, other than to pay occasional lip service on the way to a triumphant musical finale. It's like the movie's in a rush to get to the next cliché. We don't even get to enjoy the Sisters' success before Satin starts giving Sister drugs and beating her. A shame, too, because his character is on the verge of being interesting: He's cocky because he's got money and fame, but he's also full of self-loathing thanks to his role as a black sidekick peddling ridicule on TV. (When Mom calls him a "coon" at a disastrous family lunch, he retorts, bitterly, "I'm more of a Sambo.") But the by-the-numbers plot demands that Satin waste little time becoming your standard-issue movie jerk.
Houston's tragic real-life tale does bring added poignancy to her character. When Emma asks her daughters, "Was my life not enough of a cautionary tale for you?" you might feel chills run up your spine. And when she sings "His Eye Is on the Sparrow" late in the film after a particularly nasty plot development, the scene has real power — because you realize this isn't just a movie character defiant in the face of what's happened to her movie family, but a real woman facing off against her own sad fate. But even this intrusion of real life kind of comes out of the blue. For the most part, Sparkle veers rudderlessly between various tones and styles. Save, that is, for those great musical numbers. They should have just made it an opera and called it a day.