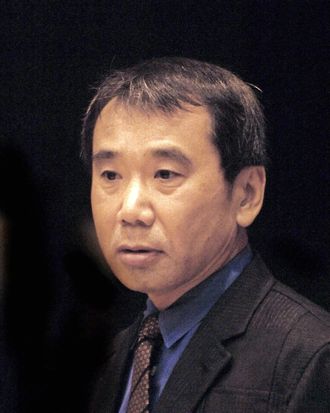 A picture taken on October 30, 2006 shows Japanese writer Haruki Murakami during a ceremony where he received the 2006 Franz Kafka Award in Prague. Murakami, the acclaimed Japanese writer, has won the 2009 Jerusalem Prize, Israel's highest literary honour for foreign writers. The 60-year-old accepted the Jerusalem Prize for the Freedom of the Individual in Society from Israeli President Shimon Peres at the opening of the international book fair in the Holy City on February 15, 2009.
Photo: MICHAL CIZEK/AFP/Getty Images
If there's anything more exciting than speculating on who will win a Nobel Prize in literature, it's placing actual bets on it. Your odds-on favorite for this year's honors, according to British gambling site Ladbrokes: Haruki Murakami, with ten-to-one odds! (According to the Times, Ladbrokes is pretty reliable for these sorts of things.) Murakami's followed by Chinese author Mo Yan (twelve-to-one), Dutch author Cees Nooteboom (twelve-to-one), and Albanian author Ismail Kadare (fourteen-to-one). Cormac McCarthy comes in with 16-to-1, Alice Munro with 20-to-1, Bob Dylan with 33-to-1, Margaret Atwood with 50-to-1, and Jonathan Franzen's alllll the way at the bottom with 100-to-1 odds. Place your bets, cats and kittens.