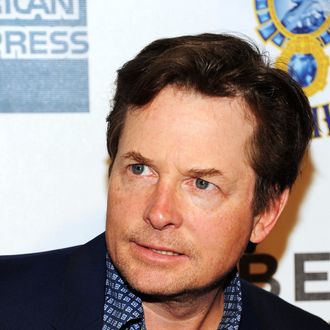 Michael J. Fox
Photo: Jason Kempin/Getty Images
Thirty years after Family Ties debuted on NBC, the Peacock has agreed to fork over a whole bunch of sha-la-la-la in order to win the rights to that Michael J. Fox comedy project Vulture first told you about last week. Facing intense competition from other networks, Peacock chief Robert Greenblatt and entertainment division chief Jen Salke wooed Fox by offering him and Sony Pictures Television something virtually unheard of these days in TV: A commitment to make and air a full season of 22 episodes of the show, even before a pilot is filmed.
NBC has also made producers certain guarantees about how the single-camera comedy will be scheduled and marketed, though given the upfront commitment involved, you can expect NBC to start hyping the show any minute now. Vulture also hears that the network has agreed to film the single-camera comedy in New York City, which is also where Fox's last full-time TV gig,  Spin City, was shot.  Landing Fox is a big "get" for Greenblatt: It's a project whose success or failure could very well prove to be a defining factor in his ultimate success or failure in reshaping NBC's primetime fortunes. No surprise, then, that our spies say all four nets were in the hunt for Fox, with CBS very much in the mix right until the last minute. ABC and Fox were out of contention earlier, insiders say. ABC's inability to woo Fox has to be seen as a major defeat for network chief Paul Lee, since the exec holds what might have been considered the trump card in any negotiations: the 9:30 p.m. Wednesday timeslot following Modern Family.
Fox's half-hour, expected to be a family comedy inspired by the actor's own life, seems to be a perfect fit with MF and ABC's overall brand. And yet, somehow, Greenblatt was better able to schmooze and impress Sony and Fox, convincing them that he would give Fox and the show's writers plenty of creative freedom and ridiculous levels of marketing support. The deal calls to mind one of the first big talent pacts put together by CBS chief Leslie Moonves when he first got to CBS more than a decade ago. Back then, Moonves delivered the sun and the moon to Bill Cosby in order to get him to return to TV after The Cosby Show. The series wasn't a blockbuster, but it ran for several seasons, stabilized the CBS lineup and laid the groundwork for what would become Moonves' big game-changing half-hour comedy: Everybody Loves Raymond.
As for the Fox project, it's being targeted for a fall 2013 debut, but because that's a year away, look for producers to take advantage of the long lead time by shooting a pilot well in advance of all of the other 2013-14 series wannabes. It's also likely a seasoned showrunner will board the project, too, since creator Sam Laybourne (Arrested Development) hasn't captained his own ship yet (and director/exec producer Will Gluck, who does have showrunning experience, is busy making hit movies like Easy A these days). Wonder what Gary David Goldberg is up to these days?
Follow Josef Adalian on Twitter via @tvmojoe