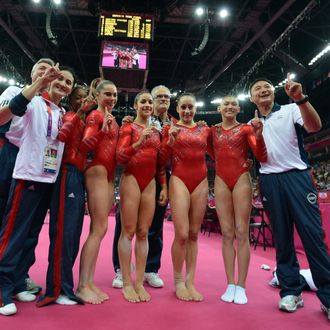 US gymnasts Gabrielle Douglas, Mckayla Maroney, Alexandra Raisman, coach John Geddert, Jordyn Wieber and Kyla Ross celebrate winning gold in the women's team of the artistic gymnastics event of the London Olympic Games on July 31, 2012 at the 02 North Greenwich Arena in London. Team US won gold, Team Russia took silver and Team Romania got bronze.
Photo: BEN STANSALL/AFP ImageForum
The Olympics Twitterati may consider NBC Sports execs a bunch of wankers who cocked up London 2012. But viewers? They still turned out in bloody massive numbers: Per Nielsen, the network averaged a massive 31.1 million prime-time viewers over seventeen nights of the Games, making this the most-watched non-U.S.A. summer Olympiad since 1976's Montreal games. A slightly chuffed Peacock also bragged that the 2012 Olympics also ranks as "the most-watched television event in U.S. history," with 219 million viewers; this is pretty much a made-up number in which Nielsen counts up everybody who watched even a couple of minutes of the Games on any of the half-dozen channels on which NBCUniversal ran coverage. That said, there were plenty of legit reasons to be gobsmacked over how well NBC's Olympics coverage performed.
First up, London 2012 managed to improve upon 2008's very successful Beijing games by double digits, with prime-time viewership up 12 percent, despite the fact that dramatically more folks are using DVRs than four years ago. Compared to Athens 2004, London 2012's audience was up an eye-popping 26 percent. (Ratings were also up in key demo groups, though not as much). If you considered NBC's Olympics coverage a prime-time series, it would rank as the most-watched regular program since the 2006 edition of American Idol. Of course, it's worth noting that population growth also factors into the ratings equation; there are simply more Americans now than eight or twelve years ago. But if you measure using only Nielsen's static household ratings measure — which looks at what percentage of possible TV viewers are tuned in — the London games come in tied with Seoul 1988. And back then, there were no DVRs and there weren't dozens of cable channels offering really compelling alternatives (unless, of course, you consider repeats of The Brady Bunch on TBS to be really compelling).

Despite the prevalence of #NBCfail on Twitter and frequent complaints and in the media about the lameness of NBC delaying broadcast of events well after results were all over the Internet, there's exactly zero evidence to suggest viewers were turned off by all the spoilers. And all the moaning from West Coast viewers about having to wait three hours to see already delayed coverage? Whining equals ratings: Nielsen says viewership of the Games was highest in the Mountain and Pacific time zones, with the East turning in the lowest numbers (almost 20 percent below Mountain viewers).

Not shockingly, NBC pretty much crushed its network rivals over the past two and a half weeks. The Peacock says its prime-time audience, on average, outperformed the combined viewership of ABC, CBS, and Fox by 235 percent. And there was definitely a massive halo effect. NBC's daytime coverage averaged 7.1 million viewers, more than any other non-U.S. summer Olympics daytime audience. Today regained its Nielsen lead over Good Morning America (at least temporarily). And NBC's official Olympics portal boasted 57.1 million unique users, up nearly 6 million from Beijing.

Some other Olympics Ratings Fun Facts:

• Team USA's gold medal performance in women's soccer was the most-streamed live event, with nearly 1.5 million streams.

• Salt Lake City boasted bigger Olympic ratings than any of the 56 major cities where Nielsen measures overnight numbers. New York and L.A. were about in the middle of the viewership pack, while two North Carolina locales (Raleigh-Durham and Charlotte) had the lowest tune-in.

• Gabby Douglas was the most-clicked athlete on NBC's Olympics website, garnering 23.4 million mouse vaults (Michael Phelps had under 8 million).