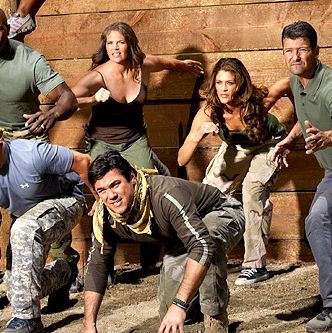 Earlier today, several antiwar groups banded together to protest Stars Earn Stripes, NBC's latest reality show (er, "war-o-tainment") in which eight "celebrities" get paired with real military men and put through military-style training, which premiered tonight. Rustling up the signatures of eight Nobel Peace laureates, including Archbishop Desmond Tutu, a coalition made up of Military Families Speak Out, Veterans for Peace, and Peace Action sent Peacock chairman Bob Greenblatt a letter pleading with him to cancel the show because it "sanitize(s) war by likening it to an athletic competition" and "continues and expands on an inglorious tradition of glorifying war and armed violence."
Ultimately, the network chose to go ahead with tonight's premiere, which featured the likes of former NFL player Terry Crews and former Alaskan First Husband Todd Palin "swimming in full gear, shooting targets, crawling in the mud, and blowing up a building," recapped Reality TV Magazine. Defending its decision, NBC argued that Stars Earn Stripse is about "thanking the young Americans who are in harm's way every day … and is not a glorification of war but a glorification of service." Besides being hosted by retired (and highly decorated) U.S. General Wesley Clark, the winner gets $100,000 toward the charity of his or her choice.
But the show's detractors aren't giving up quietly yet and are already organizing a protest outside NBC's Manhattan headquarters.