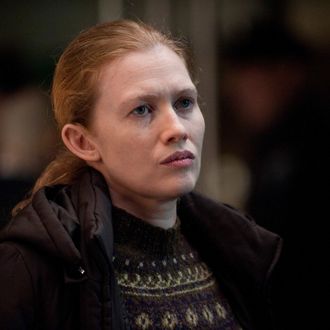 Sarah Linden (Mireille Enos) - The Killing - Season 2, Episode 12.
Photo: Carole Segal/AMC
Rosie Larsen's death took a long time to figure out, and the postmortem for The Killing may last quite awhile too, especially since other outlets are interested in picking up the crime serial after AMC cancelled it last month. TV Line reports that Netflix and DirecTV — two companies that revived cancelled or endangered shows like Arrested Development, Damages, and Friday Night Lights — are both in early talks to continue The Killing for a third season. Keep an eye on your Bockmail Alerts for further developments.