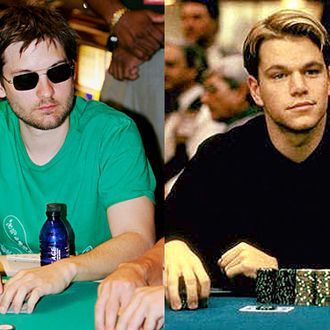 Tobey "Wunderkind" Maguire, Matt Damon. (Ethan Miller/Getty Images)
Photo: Ethan Miller/2005 Getty Images
It's been over a year now since the FBI uncovered a multi-million-dollar Texas Hold'em celebrity poker ring run out of Los Angeles's fanciest hotels and catering to major Hollywood talent: Tobey Maguire, Ben Affleck, Matt Damon, and Leonardo DiCaprio, among others. At the time, hedge-fund manager Brad Ruderman was at the center of the debacle, having bilked investors out of $25 million, much of that to cover his gambling debts, and landed himself a ten-year prison sentence. When Ruderman's investors sued Maguire and Company to claw back their winnings — Maguire was said to have won at least $311,300 off Ruderman — the Hollywood boys' club quickly (and quietly) settled. But now, thanks to a 206-page deposition by Ruderman obtained exclusively by Celebuzz, we have a far more complete picture of what went down.
It all started back in 2006, when Ruderman was walking along Carbon Beach and ran into Rick Salomon, he of One Night in Paris sex tape fame, who was throwing a party. There he met then-33-year-old Molly Bloom, a cute brunette and the point-person-cum-clearing-agent for the high-stakes underground poker circuit. Not long after, he got a call from who else but Spider-Man himself, Tobey Maguire. "Hey, we have this game," he told Ruderman. "Would you like to play?" Soon, he was receiving exclusive text invites from Bloom for games at The Four Seasons or Beverly Hills Hotel, where bodyguards in bulletproof vests were the norm, as were secret passwords and "friendly, attractive girls" serving drinks and performing the occasional shoulder massage.
As for the poker, there was no limit, so the pot could reach into the hundreds of thousands, Ruderman told FBI agents — he once saw it hit $950,000, but was not personally staked in it. Bloom was always nearby, keeping track of players' losses and wins in a computer, and diligently sending around couriers a few days later to settle everyone's accounts. Ruderman became known as a man who always paid his debts — although with other peoples' money, it later turned out — but that's not the only reason he became such a fixture.
"He was easy to take advantage of," said one of the game's big winners. "Ruderman was one of the biggest losers in the game. For the core group of players, having someone with deep pockets and no poker skills was a dream come true." Eventually Ruderman's losses spiraled out of control and he stole more than $5.2 million from his clients to pay off his card-carousing debts.
But if Ruderman was the easy pickings, then the real talent at the table was always Tobey Maguire, who claims he only ever won $187,000 but is believed to have walked away with as much as $1 million a month off these games. But that's not even the most shocking revelation in the deposition, an honor reserved for the leaked names of other bigwig players: DreamWorks CEO and former Walt Disney chairman Jeffrey Katzenberg; pro poker player Kenny Tran; The Notebook director Nick Cassavetes; and even Yankee Alex Rodriguez.
Quite the crowd, with quite the (illicit) gambling streak. Which gets us wondering — and worrying — about how they're all getting their adrenaline thrill these days.