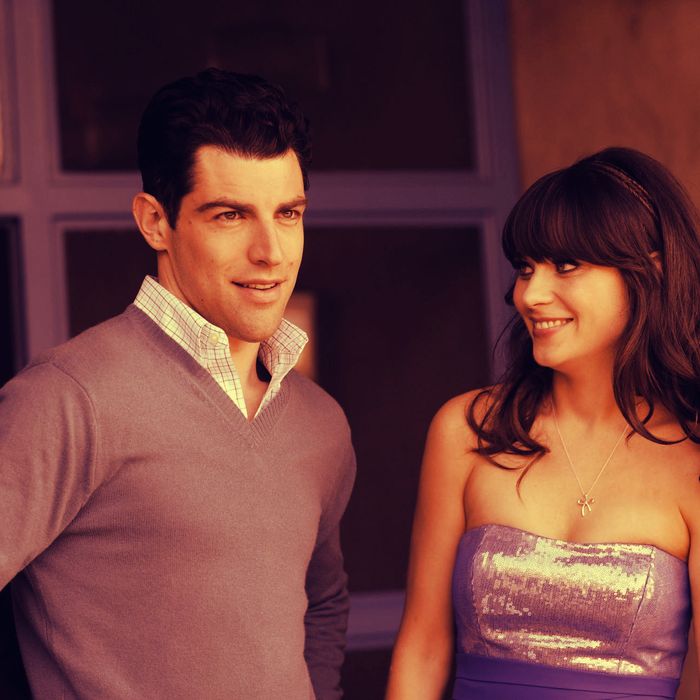 As the Emmys approach (September 23), Vulture reached out to nominees to pose the question, "What was your favorite episode from the last season of your show?" Mad Men's Jon Hamm, The Big Bang Theory's Jim Parsons, The Good Wife's Christine Baranski, Downton Abbey's Hugh Bonneville,  Nurse Jackie's Merritt Wever, Mad Men's Jared Harris, and Modern Family's Jesse Tyler Ferguson have weighed in. Today we have New Girl's Max Greenfield.
The Episode: "Control"
When it came time to choose his Emmy submission episode, "It was between this and two other ones," Max Greenfield told us. "And this one I ended up picking because Brett Baer and Dave Finkel, who show-run our show, they actually wrote this episode. And Jesse Peretz, who's one of my absolute favorite directors, directed it. So, I thought: If I lose the Emmy, I can blame my friends."
All jokes aside, Greenfield credits the three men with expertly calibrating this showcase episode, where the tightly wound Schmidt (played by Greenfield) finds solace in a Venice Beach drum circle after his roommates chide him for his neurotic fussiness. Of course, after Schmidt goes full-on, blissed-out hippie, the delicate ecosystem of the apartment falls apart, and Jess (Zooey Deschanel) must coax Hippie Schmidt to pack away his patchouli and embrace "chut-a-ney" once more.
"There was a full collaboration between the four of us when it came to finding that place between the neurotic, really put-together version of Schmidt and the one that kind of became the hippie-ish beach version," says Greenfield. "And we wanted to really bridge that gap in a way where it wasn't a caricature or some sort of cartoon version of what that might be, and I think we were all nervous that it could go that way."
What helped was playing off series star Deschanel for the majority of his episode. "We don't get a tremendous amount of real Jess-and-Schmidt time, and it was so much fun to work that entire week with Zooey," recalls Greenfield, who flagged the scene where Schmidt destroys Jess's hutch as his favorite of the season. "It just flowed really nicely, and the two of us both had big moments in it. There are certain moments as an actor where you're like, All right, we're cooking. That's what we both felt like when we were doing that scene, and it was great."
More than any other episode this season, "Control" allowed Greenfield to explore the full range of Schmidt's metrosexual tics, and Greenfield himself has good-naturedly exploited those character traits off-screen, teaching a spinning class and guest-editing a Goop newsletter while still kinda-sorta in-character. "I fell in TV love with Schmidt," blogged Goop headmistress Gwyneth Paltrow, who then named Greenfield "the kind of guy you lusted after at your cousin's Bar Mitzvah." Replies an appreciative Greenfield, "She couldn't have said it better. I mean, if I could have something engraved on my tombstone, it would be that. And it would say '- gp' on the bottom."
Back to work now on New Girl's sophomore season, Greenfield is also touting a new Axe web series that he conceived and directed, but don't expect him to get behind the camera on New Girl anytime soon. "I couldn't do a full episode!" he laughs. "No, those guys are different breed. I'm good on the Internet screen for about a minute and a half to three minutes. Anything longer than that, not for me." His commitment to full-time Schmidt-itude, then, is secure.